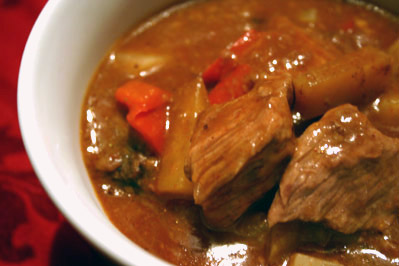 This post may contain affiliate links. Thank you for supporting the brands that keep me creative in my tiny kitchen!
This is the second time that I've made this dish in the slow cooker. The first time I made it exactly as directed and we really liked it. The second time, I couldn't find double-strength beef broth so I used regular and we really couldn't tell. It's very meaty and stew-like, and it was nice on a cold night.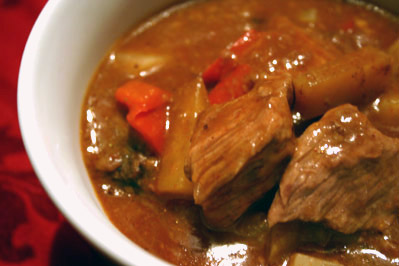 Beef Goulash
Cooking Light March 2006
⅓ cup all-purpose flour, about 1 1/2 ounces
2 pounds lean beef stew meat, cut into bite-sized pieces
4 cups baking potatoes, diced and peeled (about 1 1/2 pounds)
1 cup carrot, 1/4-inch-thick slices
1 cup red bell pepper, chopped (about 1 medium)
⅓ cup ketchup
1 tablespoon Worcestershire sauce
2 teaspoons Hungarian sweet paprika
2 teaspoons garlic, minced
1 teaspoon salt
1 10-ounce can double-strength beef broth
Combine flour and beef in a medium bowl; toss well. Combine beef mixture, potatoes, and remaining ingredients in an electric slow cooker. Cover and cook on low for 8 hours.
Yield: 8 servings (serving size: 1 cup)
Nutritional information per serving:
CALORIES 304(25% from fat); FAT 8.3g (sat 3g,mono 3.4g,poly 0.4g); PROTEIN 25.4g; CHOLESTEROL 72mg; CALCIUM 33mg; SODIUM 744mg; FIBER 3.2g; IRON 3.5mg; CARBOHYDRATE 31.3g
MacGourmet Rating: 4 Stars