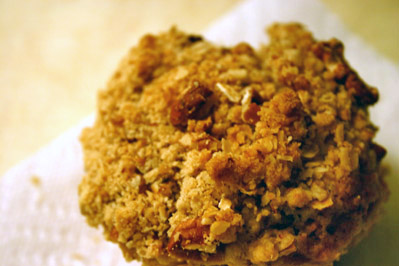 Apple Nut Oatmeal Muffins
This post may contain affiliate links. Thank you for supporting the brands that keep me creative in my tiny kitchen!
This recipe was disappointing. First off, I was skeptical about the directions about greasing the pan, but I did it as instructed. I think that muffin liners would have helped. When they came out of the oven, there was SO much topping on them that it just pulled right off, and I had to scoop out the bottoms (the only part with the actual batter) from the pan. I don't think I'll make these again, and I'll definitely trust my instincts about liners next time.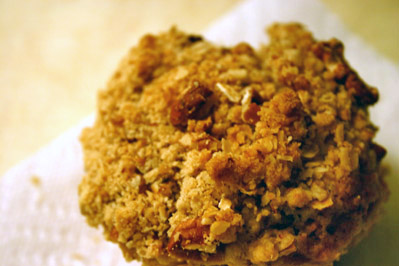 Apple Nut Oatmeal Muffins
Small-Batch Baking
Yield: 3 standard muffins
for the streusel topping:
2 tablespoons quick or old-fashioned rolled oats
2 tablespoons all-purpose flour
1 tablespoon light brown sugar, packed
1 tablespoon cold unsalted butter, cut into bits
2 tablespoons pecans, chopped
for the muffins:
¼ cup plus 2 tablespoons all-purpose flour
¼ cup quick or old-fashioned rolled oats
3 tablespoons light brown sugar, packed
1 tablespoon baking powder
⅛ teaspoon salt
2 tablespoons raisins
¼ cup applesauce
2 tablespoons vegetable oil
1 medium egg yolk
½ teaspoon pure vanilla extract
1. Place rack in the center of the oven and preheat the oven to 400°F. Lightly grease only the bottoms of 3 muffin cups; then rub a little of the butter around the rim of each cup. (This will help them to form a more rounded top.) Set the muffin pan aside.
2. Make the streusel topping: Combine the 2 tablespoons oats, 2tablespoons flour, and brown sugar in a small bowl. Mix in the butter, using a fork or your fingertips, until the mixture is crumbly. Then mix in the pecans. Set the topping aside.
3. Make the muffins: Combine the flour, oats, brown sugar, baking powder, and salt in a medium-size mixing bowl, and stir to mix well. Add the raisins and toss to mix.
4. Place the applesauce, oil, egg yolk, and vanilla in a small bowl and whisk to blend well. Add the applesauce mixture to the flour mixture all at once, and stir just until the dry ingredients are moistened. Spoon the batter evenly into the prepared muffin cups, dividing it evenly among them; they should be about two-thirds full. Sprinkle the streusel topping evenly over the muffins; then gently pat the topping into the batter with your fingers. Fill the empty muffin cups halfway with water to prevent them from scorching.
5. Remove the muffin pan from the oven and place it on a wire rack to cool for 5 minutes. Carefully pour the water out of the empty muffin cups and let cool, upright, on the wire rack for at least 5 minutes before serving. Serve warm or at room temperature. (They are best eaten the day they are baked but will keep for up to 1 day in a plastic bag at room temperature.
MacGourmet Rating: 3 Stars