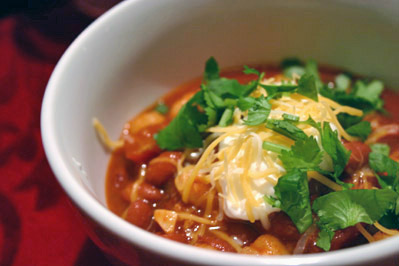 Chicken Focaccia Sandwiches | Hominy Chili with Beans
This post may contain affiliate links. Thank you for supporting the brands that keep me creative in my tiny kitchen!
Thank God for last minute searching over at the CLBB, because I was planning on only making sandwiches tonight, but I came across a chili recipe that I decided to make on the side that turned out being super easy and tasty. The sandwiches were OK. They were nothing special. They weren't bad, they just didn't have any flavor really.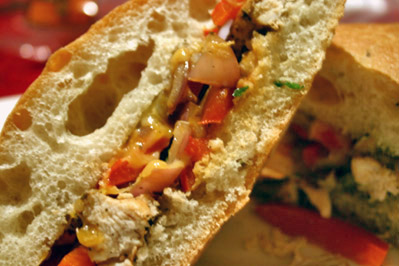 Chicken Focaccia Sandwiches
Cooking Light September 2005
2 (6-ounce) skinless, boneless chicken breast halves
Cooking spray
1 teaspoon dried Italian seasoning
½ teaspoon garlic powder
½ teaspoon freshly ground black pepper
¼ teaspoon salt, divided
1 tablespoon olive oil
½ cup water
1 ½ cups (1/4-inch-thick) slices red onion
2 ½ cups red bell pepper strips (about 2 medium)
⅓ cup chopped green onions
10 ounce focaccia bread, cut in half horizontally
½ cup (2 ounces) shredded sharp cheddar cheese
Cut each chicken breast half in half horizontally, and lightly coat chicken with cooking spray. Sprinkle Italian seasoning, garlic powder, black pepper, and 1/8 teaspoon salt over chicken. Heat oil in a large nonstick skillet over medium-high heat. Add chicken; cook 2 minutes on each side or until browned. Reduce heat to medium; add water. Cook 10 minutes or until chicken is done. Remove chicken from pan; keep warm.
Return pan to medium-high heat. Add red onion; sauté 2 minutes. Add bell pepper, green onions, and remaining 1/8 teaspoon salt; sauté 2 minutes or until tender.
Preheat broiler.
Place bottom half of focaccia on a baking sheet; top with chicken. Arrange onion mixture evenly over chicken; sprinkle with cheese. Broil 2 minutes or until cheese melts. Top with remaining bread; slice into 4 equal portions.
Yield: 4 servings (serving size: 1 sandwich)
Nutritional information per serving:
CALORIES 421 (28% from fat); FAT 13.2g (sat 4.6g,mono 5.4g,poly 2.2g); PROTEIN 29.8g; CHOLESTEROL 64mg; CALCIUM 143mg; SODIUM 586mg; FIBER 2.4g; IRON 3mg; CARBOHYDRATE 46.4g
MacGourmet Rating: 3 Stars
Tonight's star is super easy. The only changes that I made were to use fresh garlic, and to (accidentally) use Italian style stewed tomatoes. It ended up being surprisingly flavorful for basically coming out of a bunch of cans, and I love hominy. Even Dino liked it, and he's not a fan of hominy or soup-like things. This is perfect for a busy weeknight, and I'll definitely be making it again when I'm having a hectic day.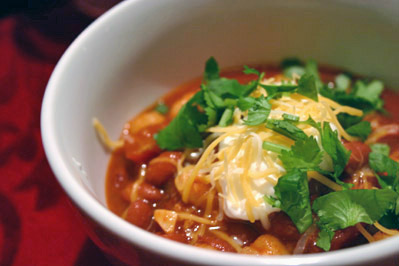 Hominy Chili with Beans
Cooking Light
2 teaspoons vegetable oil
2 teaspoons bottled minced garlic
4 teaspoons chili powder
1 teaspoon ground cumin
1 can (15.5-ounce) white hominy, drained
1 can (15-ounce) red beans, drained
1 can (14.5-ounce) no-salt-added diced tomatoes, undrained
1 can (14.5-ounce) no-salt-added stewed tomatoes, undrained and chopped
¼ cup low-fat sour cream
¼ cup (1 ounce) shredded reduced-fat sharp cheddar cheese
4 teaspoons minced fresh cilantro
Heat oil in a large saucepan over medium heat. Add garlic; sauté 1 minute. Stir in chili powder and next 5 ingredients (chili powder through stewed tomatoes); bring to a boil. Reduce heat; simmer, uncovered, 15 minutes.
Spoon 1 1/4 cups chili into each of 4 bowls; top each serving with 1 tablespoon sour cream, 1 tablespoon cheese, and 1 teaspoon cilantro. Note: If hominy is not available, you can substitute 1 (11-ounce) can vacuum-packed white corn or 1 (15.25-ounce) can whole-kernel corn, drained.
Hominy imparts a distinctive flavor remarkably different from that of corn, so if you use corn, know that the dish will be more like a basic chili with beans.
Nutritional information per serving:
CALORIES 271(23% from fat); FAT 6.8g (sat 2.6g,mono 2g,poly 1.8g); PROTEIN 11.7g; CHOLESTEROL 10mg; CALCIUM 202mg; SODIUM 452mg; FIBER 5.5g; IRON 4.1mg; CARBOHYDRATE 42.9g
MacGourmet Rating: 4 Stars