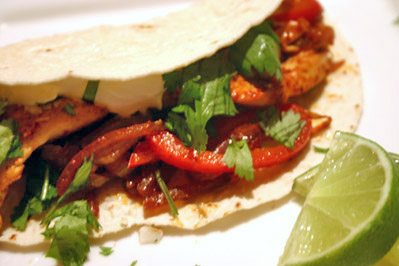 This post may contain affiliate links. Thank you for supporting the brands that keep me creative in my tiny kitchen!
Tonight, I busted out the iron skillet again. I made this recipe with chicken and flour tortillas. It was really easy and pretty quick. The only thing I'd change next time would be to add a little less garlic (or to cook it slightly) and to add a few more spices into the mix. Don't get me wrong, I love garlic, but even my Italian fiancé said, "WOW, that garlic is a little too potent!"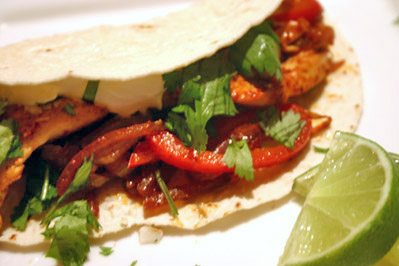 Tacos Al Carbón
Cooking Light October 2005
Cooking spray
1 ½ cups thinly sliced red bell pepper (about 1 medium)
1 ½ cups thinly sliced onion (about 1 medium)
1 (1-pound) flank steak, trimmed and thinly sliced
1 tablespoon chili powder
1 tablespoon fresh lime juice
2 ½ teaspoons olive oil
¾ teaspoon salt
8 cloves, garlic minced
8 (6-inch) corn tortillas
3 tablespoons chopped fresh cilantro
6 tablespoons fat-free sour cream
Total time: 30 minutes
Heat a grill pan over medium-high heat. Coat pan with cooking spray. Add bell pepper to pan, and cook 4 minutes. Add onion to pan, and sauté 10 minutes or until vegetables are tender. Place pepper mixture in a large bowl; cover and keep warm. Add beef to pan; cook 7 minutes or until desired degree of doneness. Add to pepper mixture. Add chili powder, juice, oil, salt, and garlic to bowl; toss to coat.
Heat tortillas according to package directions. Spoon steak mixture evenly over 8 tortillas. Top each taco with about 1 teaspoon cilantro and 2 1/4 teaspoons sour cream.
Yield: 4 servings (serving size: 2 tacos)
Nutritional information per serving:
CALORIES 371(32% from fat); FAT 13.1g (sat 3.8g,mono 5.7g,poly 1.7g); PROTEIN 29g; CHOLESTEROL 49mg; CALCIUM 164mg; SODIUM 608mg; FIBER 4g; IRON 2.9mg; CARBOHYDRATE 36g
MacGourmet Rating: 4 Stars