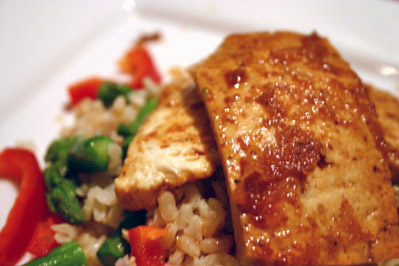 Chili-Glazed Tofu over Asparagus and Rice
This post may contain affiliate links. Thank you for supporting the brands that keep me creative in my tiny kitchen!
I made tonight's dinner with leftover brown rice and some red bell peppers instead of carrots. I think the peppers added a great flavor to it, and would do it again in a heartbeat. The glaze is really tasty, and it's a great way to serve tofu. We really loved this dish and I'll definitely make it again.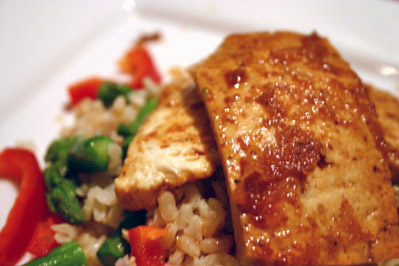 Chili-Glazed Tofu over Asparagus and Rice
Cooking Light October 2004
Cooking the rice and asparagus in the same pot of boiling water saves a little time.
4 cups water
1 (3 1/2-ounce) bag boil-in-bag long-grain rice
2 1/4 cups chopped asparagus (about 1 pound)
1 tablespoon peanut oil
1 tablespoon sugar
2 tablespoons rice vinegar
2 tablespoons low-sodium soy sauce
1 teaspoon bottled minced ginger
1 teaspoon hot chili sauce with garlic (such as KA·ME)
1 pound extrafirm tofu, drained and cut lengthwise into 9 pieces
1 teaspoon salt, divided
1/4 teaspoon black pepper
3/4 cup preshredded carrot
1 teaspoon dark sesame oil
Bring 4 cups water to a boil in a 2-quart saucepan. Add bag of rice, submerging bag completely in water. Boil 10 minutes. Carefully remove bag from pan, leaving boiling water in pan. Add asparagus to pan; cook 1 minute. Drain.
While rice cooks, heat peanut oil in a large nonstick skillet over medium-high heat. Combine sugar, vinegar, soy sauce, ginger, and chili sauce in a small bowl. Sprinkle tofu with 1/2 teaspoon salt and pepper. Add tofu to pan; cook 3 minutes on each side or until browned. Add soy sauce mixture; cook 20 seconds, stirring constantly. Remove from heat. Combine rice, asparagus, 1/2 teaspoon salt, carrot, and sesame oil. Serve tofu over rice.
Yield: 3 servings (serving size: 3 tofu pieces and 1 1/3 cups rice mixture)
Nutritional information per serving:
CALORIES 296 (26% from fat); FAT 8.4g (sat 1.1g,mono 2.8g,poly 2.3g); PROTEIN 15.7g; CHOLESTEROL 0.0mg; CALCIUM 126mg; SODIUM 913mg; FIBER 4.9g; IRON 3.7mg; CARBOHYDRATE 41g
MacGourmet Rating: 5 Stars