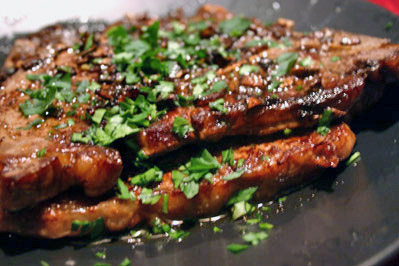 Steak in Balsamic Vinegar | Glazed Carrots with Lemon | Cream-Filled Chocolate Cookies
This post may contain affiliate links. Thank you for supporting the brands that keep me creative in my tiny kitchen!
A friend of mine sent me this cookbook as a gift. It seems pretty intimidating because it has well over 1000 pages full of recipes, but I managed to find tow dishes that were relatively easy and very tasty. It's a book full of Italian recipes, and I'm glad it was given to me!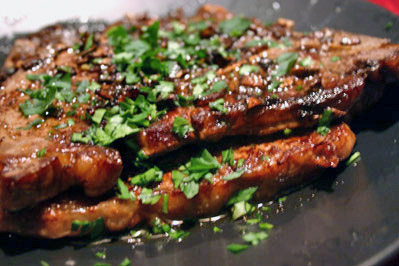 Steak in Balsamic Vinegar
The Silver Spoon
Serves 4
2 tablespoons butter
2 tablespoons olive oil
4 porterhouse steaks
1 shallot, chopped
2 teaspoons balsamic vinegar
1 sprig fresh flat-leaf parsley, chopped
salt
Heat 1 1/2 tablespoons of the butter and the oil in a skillet. Add the steaks and cook over high heat for 2-4 minutes on each side, depending on how well done you like your steak. Season with salt, transfer to a serving dish and keep warm. Add the shallot to the skillet and cook over low heat, stirring occasionally, for 5 minutes. Add the remaining butter and reduce a little, then stir in the vinegar. Remove the skillet from the heat and pour the sauce over the steaks, sprinkle with parsley and serve.
MacGourmet Rating: 5 Stars
The side dish was also really easy and delicious. I didn't ever think that I'd like cooked carrots this much, but they were fantastic! That makes me 2 for 2 with this cookbook so far!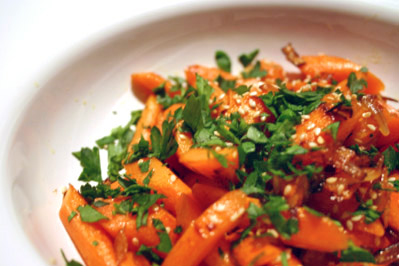 Glazed Carrots with Lemon
The Silver Spoon
1 ¾ pounds carrots, fairly thickly sliced
3 tablespoons butter
2 pearl onions, chopped
½ lemon, grated rind and strained juice
1 teaspoon sesame seeds
1 sprig fresh flat-leaf parsley, chopped
olive oil, for drizzling
salt and pepper
Put the carrots in a bowl, add water to cover and a pinch of salt and let soak for 15 minutes, then drain. Melt the butter in a pan, add the onions and cook over low heat, stirring occasionally, for 5 minutes. Add the lemon juice and rind and cook for a few minutes more, then add the carrots, season with salt and pepper and cook for a further 10 minutes. Meanwhile, dry-fry the sesame seeds in a heavy skillet for a few seconds until they give off their aroma. Remove the pan of carrots from the heat, transfer to a warm serving dish and sprinkle with the parsley and sesame seeds. Drizzle with olive oil and serve.
MacGourmet Rating: 5 Stars
I had heard a lot about this next book, so I decided to check it out from the library. It's cool because you can bake a dessert without having to make a TON of portions. Plus, if you don't end up liking the recipe, you don't have as much left to feel guilty about. So I made this Oreo-like recipe and we thought it was good, but a little too crunchy. If I make them again, I'll bake them for less time to see if that helps. But it was a great way to get our chocolate fix late Saturday night.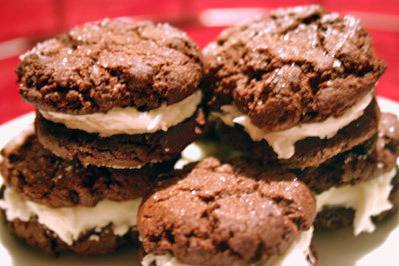 Cream-Filled Chocolate Cookies
Small-Batch Baking
Makes 6 filled cookies
¼ cup all-purpose flour
2 tablespoons plus 1 teaspoon unsweetened cocoa powder
⅛ teaspoon baking powder
pinch salt
¾ cup sugar
2 tablespoons unsalted butter, at room temperature
2 ½ teaspoons egg or egg substitute, well-beaten
Vanilla Cream Filling (makes about 3 tablespoons)
1 tablespoon unsalted butter, at room temperature
1 tablespoon solid vegetable shortening
½ teaspoon milk
¼ teaspoon pure vanilla extract
pinch salt
½ cup confectioners' sugar
1. Place a rack in the center of the oven and preheat the oven to 375°F. Line a baking sheet with parchment paper, and set it aside.
2. Place the flour, cocoa powder, baking soda, and salt in a small bowl and whisk to blend.
3. Place 1/4 cup plus 2 teaspoons of the sugar, the butter, and the beaten egg in a medium-size mixing bowl and beat with a hand-held electric mixer on low speed until blended, about 20 seconds. Increase the mixer to medium and beat until the mixture is light and fluffy, about 20 seconds. Add the flour mixture to the egg mixture and beat just until the dough is blended, 15 to 20 seconds.
4. Roll rounded teaspoonfuls of the dough in your hands to form 12 equal balls, and place them on the prepared baking sheet, spacing them 2 inches apart. Pour the remaining sugar (about 1/2 cup) into a small bowl. Dip the bottom of a drinking glass into the sugar and press the sugar-coated glass onto a ball of dough to flatten it. Repeat with the remaining alls of dough, dipping the glass in the sugar before flattining each cookie. Bake the cookies until they are firm, 14 to 15 minutes.
5. Remove the baking sheet from the oven, place it on a wire rack, and let the cookies cool completely.
6. Spread 1 1/2 teaspoons of the Vanilla Cream Filling over the flat side of half of the cookies. Place remaining cookies on top, flat side down, gently pressing down on them to squeeze the filling out to the edges of the cookies.
Vanilla Cream Filling:
Place the butter, shortening, milk, vanilla, and salt in a small bowl and mix with a fork until a soft, smooth paste forms. Add the confectioners' sugar and mix until the filling is well blended and smooth (This may take up to 5 minutes.) Cover the bowl with plastic wrap and set it aside at room temperature until you are ready to use it.
MacGourmet Rating: 4 Stars