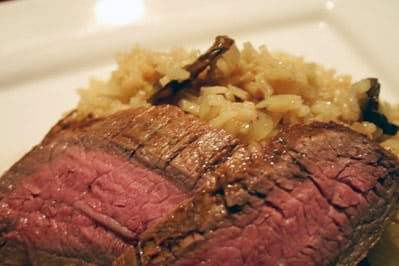 Oven-baked Porcini Risotto | Bloody Mary Flank Steak
This post may contain affiliate links. Thank you for supporting the brands that keep me creative in my tiny kitchen!
I made this side dish for the SGOTW over on the CLBB. It was the easiest risotto that I've ever made, but it was lacking flavor. I'd make this again, but with some changes. I'd probably sauté garlic with the onions, and I'd add herbs or something salty like pancetta to add more flavor to this dish. It was pretty bland as is, and I had to add quite a bit of salt and pepper to get it to do anything. Maybe adding wine with the cooking liquid would help too.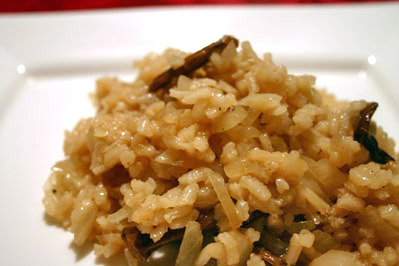 Oven-baked Porcini Risotto
Best Ever Three & Four Ingredient Cookbook – Jenny White & Joanna Farrow
4 Servings
½ cup dried porcini mushrooms
1 onion, finely chopped
1 generous cup risotto rice
2 tablespoons garlic-infused olive oil
salt and ground black pepper
1. Put the mushrooms in a heatproof bowl and pour over 3 cups boiling water. Leave soak for 30 minutes. Drain the mushrooms through a seive lined with kitchen paper, reserving the soaking liquor. Rinse the mushrooms thoroughly under running water to remove any grit, and dry on kitchen paper.
2. Preheat the oven to 350°F. Heat the oil in a roasting pan on the hob and add the onion. Cook for 2-3 minutes, or until softened but not coloured.
3. Add the rice and stir for 1-2 minutes, then add the mushrooms and stir. Pour in the mushroom liquor and mix well. Season with salt and pepper, and cover with foil.
4. Bake in the oven for 30 minutes, stirring occasionally, until all the stock has been absorbed and the rice is tender. Divide between warm serving bowls and serve immediately.
MacGourmet Rating: 3 Stars
Tonight's main dish was definitely more flavorful. It was weird mixing a bloody mary for a marinade, but it really complimented the meat well. It's not my favorite flank steak recipe, but it was something different for us, so that was good. It also stayed very juicy after grilling it on the Griddler.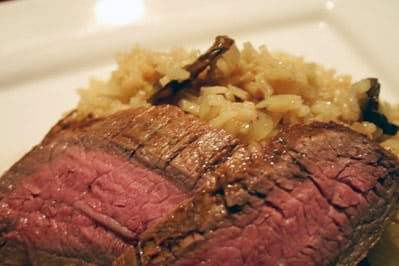 Bloody Mary Flank Steak
Guy Fieri
Difficulty: Easy
Prep Time: 15 minutes
Inactive Prep Time: 24 hours
Cook Time: 20 minutes
Yield: 4 to 8 servings
1 cup vegetable juice (recommended: V-8)
1/2 cup vodka
1 teaspoon sea salt
1 teaspoon freshly ground black pepper
1 teaspoon hot sauce
1 tablespoon lemon juice
1 tablespoon Worcestershire sauce
1/2 tablespoon crushed garlic
1 teaspoon onion powder
1 teaspoon celery seed
1 tablespoon prepared horseradish
4 tablespoons olive oil
1-pound flank steak
Thoroughly mix all the ingredients except for the flank steak in a 1-gallon zip lock bag. Add the flank steak. Marinate in the refrigerator for at least 8 and up to 24 hours.
Preheat the grill to high or heat a skillet over high heat. Remove the flank steak from the marinade and wipe the excess liquid off with paper towels. Grill or pan sear both sides, then lower heat to medium and cook to medium rare.
Let the flanks steak rest, covered, with a clean towel for 5 to 10 minutes. Cut on the bias against the grain and serve.
MacGourmet Rating: 4 Stars