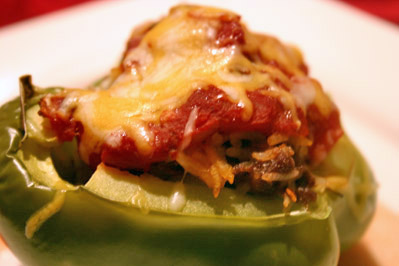 Southwestern Stuffed Peppers
This post may contain affiliate links. Thank you for supporting the brands that keep me creative in my tiny kitchen!
I thought I'd like this recipe, but either I don't like stuffed peppers at all, or this recipe wasn't meant for me. Dino liked it and gave it 4 stars, but I ended up making myself a peanut butter and jelly sandwich after all that cooking. I think maybe it was a combination of the peppers getting a little bitter with the cooking and me not caring for canned diced tomatoes unless they're mixed into something. They just kind of sat on the bottom of the pan and smelled like canned tomato. Don't get me wrong, I love tomatoes, but straight out of a can – ick. So I knocked the rating down to a 3 on account of me not liking it at all, but Dino thinking it was tasty.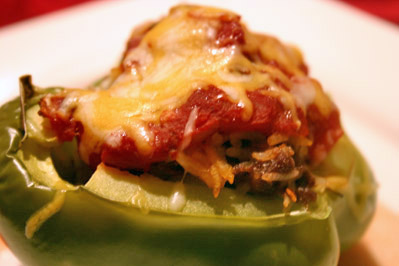 Southwestern Stuffed Peppers
recipezaar.com – CountryLady
4-6 servings
1 hour 15 min prep
1 lb lean ground beef
1/4 cup chopped onions
1 package taco seasoning mix
1 egg, beaten
2 cups cooked rice
4-6 bell peppers
1 can diced tomatoes (19 oz)
1 jar salsa
shredded cheddar cheese
sour cream
1.Combine beef, onion, seasoning mix & egg in a large bowl.
2.Add rice & mix well.
3.Cut peppers in half lengthwise; remove seeds & membrane.
4.Spread tomatoes on the bottom of an ovenproof 12 X 9 inch baking dish. The liquid from the tomatoes will reduce during cooking so if you like lots of sauce, add about a cup of water. This also helps make the peppers softer.
5.Place peppers, cut side up, on top of the tomatoes.
6.Spoon beef mixture into peppers, mounding as necessary.
7.Top each pepper with salsa.
8.Bake in preheated 375F oven for 40- 45 minutes or until beef is cooked thoroughly& peppers are soft.
9.Cover each pepper with cheese& return to oven, under the broiler, until the cheese melts- less than a minute, so watch carefully!
10.Serve with sour cream & additional salsa.
MacGourmet Rating: 3 Stars