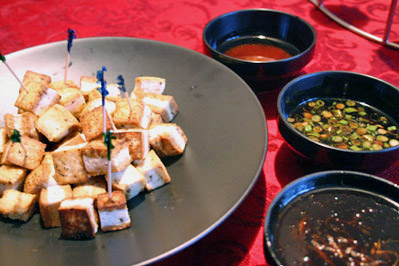 This post may contain affiliate links. Thank you for supporting the brands that keep me creative in my tiny kitchen!
I keep looking for new things to do with tofu, so when I got this month's RR magazine, I decided to give this one a try. It's a great appetizer, and serving it with all 3 sauces is great because you get to pick what flavors your tofu gets to have with it. I used a zester instead of chopping the orange peel. Next time, I'd cut the orange sauce in half, because it made about twice as much as the other ones. I think our favorite was the scallion one, but they were all good in their own way.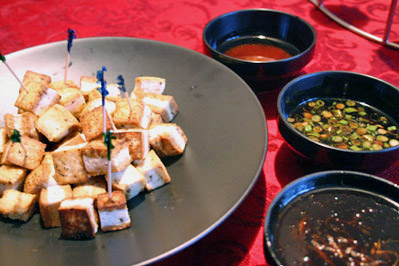 Salt and Pepper Tofu
Every Day with Rachael Ray February 2007
Makes 32 pieces.
1 lb. firm tofu, drained
Salt and pepper
Vegetable oil, for frying
Chile-Soy Sauce:
¼ cup vegetable oil
1 tablespoon red chili sauce
1 tablespoon soy sauce
Scallion-Ginger Sauce:
½ cup rice vinegar
¼ cup soy sauce
1 tablespoon brown sugar
1 scallion, finely chopped
¼ teaspoon chopped fresh ginger
Honey-Orange Sauce:
½ cup hoisin sauce
½ cup honey
2 tablespoons orange peel, chopped
1. Cut the tofu into 1-inch cubes and season with salt and pepper.
2. In a medium skillet, heat 2 tablespoons oil over medium-high heat. Add half the tofu (don't overcrowd the pan) and cook, turning once, until golden on both sides, about 4 minutes. Drain on a paper-towel-lined-plate. Repeat with more oil and the remaining tofu. Serve with dipping sauces.
MacGourmet Rating: 4 Stars