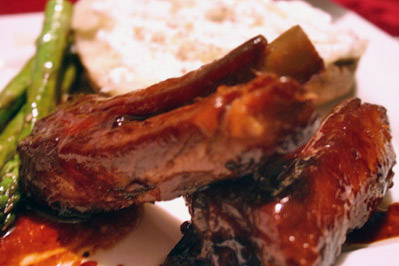 This post may contain affiliate links. Thank you for supporting the brands that keep me creative in my tiny kitchen!
Someone posted this over at the CLBB and I just had to try it out. I've never made ribs before, and I love my slow cooker, so I decided it would be perfect for this week. I cut the recipe in half, and it turned out great! The sauce is really flavorful, and the meat was tender. If I were to make it again, I'd double the sauce because it would cover them more to keep them moist while they cook all day. This sauce would be great on chicken, too.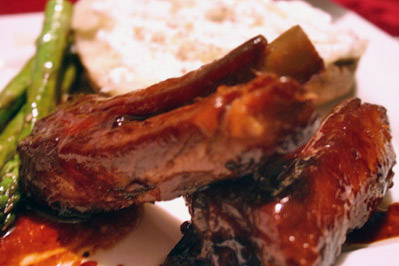 Sweet and Sour Ribs
Company's Coming Slow-Cooker Recipes
Brown Sugar Sauce
2 cups (500 ml) brown sugar
¼ cup (60 ml) all-purpose flour
⅓ cup (75 ml) water
½ cup (125 ml) white vinegar
2 tablespoons (30 ml) soy sauce
2 tablespoons (30 ml) ketchup
¼ teaspoon (1 ml) ground ginger
¼ teaspoon (1 ml) garlic powder
3 lbs (1.4 kg) meaty pork spareribs, cut into 2 or 3 rib sections Brown sugar sauce: Mix brown sugar and flour in a saucepan. Add water. Stir. Add next 5 ingredients. Heat and stir until boiling and thickened.
Layer ribs in a 5 quart (5 L) slow cooker, spooning sauce over each layer. Cover. Cook on low for 10 to 12 hours or on high for 5 to 6 hours until ribs are very tender. Serves 6.
Nutritional information per serving:
1 serving: 598 calories, 20.8g Total Fat, 516 mg sodium, 22g protein, 82g carbohydrates.
MacGourmet Rating: 4 Stars