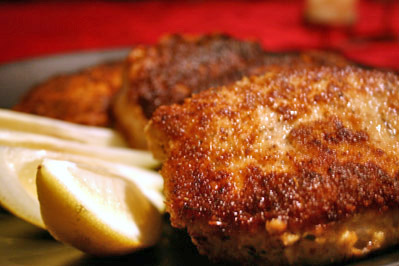 Parmesan-crusted Pork Chops
This post may contain affiliate links. Thank you for supporting the brands that keep me creative in my tiny kitchen!
I'm getting over a cold, so I wanted something quick and easy to make for dinner tonight. This one was pretty quick, although I had to finish off the cooking in the oven since my pork chops were a little on the thick side. The fresh parmesan adds a nice sharp flavor under the breading. A squeeze of lemon at the end is a great burst of citrus to finish it off. I served it with some frozen potato and onion pierogis that I sautéed and put a dollop of sour cream onto.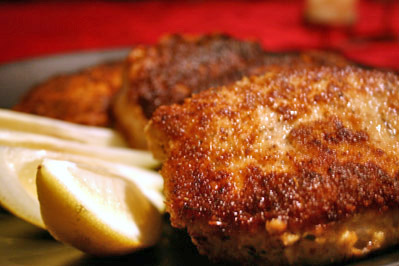 Parmesan-crusted Pork Chops
Giada De Laurentiis – Everyday Italian
Difficulty: Easy
Prep Time: 15 minutes
Cook Time: 12 minutes
2 large eggs
1 cup dried Italian-style bread crumbs
3/4 cups freshly grated Parmesan
4 (1/2 to 3/4-inch thick) center-cut pork loin chops (each about 10 to 12 ounces)
Salt and freshly ground black pepper
6 tablespoons olive oil
Lemon wedges, for serving
Whisk the eggs in a pie plate to blend. Place the bread crumbs in another pie plate. Place the cheese in a third pie plate. Sprinkle the pork chops generously with salt and pepper. Coat the chops completely with the cheese, patting to adhere. Dip the chops into the eggs, then coat completely with the bread crumbs, patting to adhere.
Heat 3 tablespoons of oil in a very large skillet over medium heat. Add pork chops, in batches if necessary, and cook until golden brown and the center reaches 150 degrees, about 6 minutes per side. Transfer the chops to plates and serve with lemon wedges.
MacGourmet Rating: 4 Stars