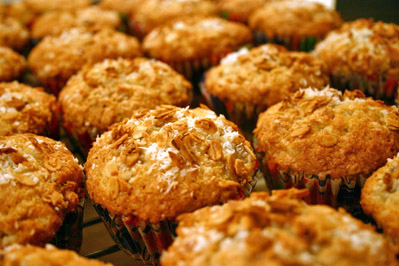 This post may contain affiliate links. Thank you for supporting the brands that keep me creative in my tiny kitchen!
I got some bananas at the store earlier in the week that I wanted to ripen for this recipe. I had seen these on her show on Food Network, and wow…they were worth the wait! The only changes that I made were to use 1% milk instead of whole, unsweetened coconut, and I topped mine with coconut and granola. The granola that I got was a honey nut variety. These taste like banana bread but with more texture. The crunchiness is really nice. I dished them out with an ice cream scooper and got 24 muffins.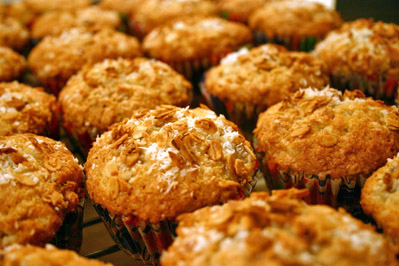 Banana Crunch Muffins
The Barefoot Contessa Cookbook
Difficulty: Easy
Prep Time: 20 minutes
Cook Time: 25 minutes
Yield: 18 large muffins
3 cups all-purpose flour
2 cups sugar
2 teaspoons baking powder
1 teaspoon baking soda
½ teaspoon salt
½ lb. unsalted butter, melted and cooled
2 extra-large eggs
¾ cup whole milk
2 teaspoons pure vanilla extract
1 cup mashed ripe bananas (2 bananas)
1 cup medium-diced ripe bananas (1 banana)
1 cup small-diced walnuts
1 cup granola
1 cup sweetened shredded coconut
Dried banana chips, granola, or shredded coconut, optional
Preheat the oven to 350 degrees F.
Line 18 large muffin cups with paper liners. Sift the flour, sugar, baking powder, baking soda, and salt into the bowl of an electric mixer fitted with a paddle attachment. Add the melted butter and blend. Combine the eggs, milk, vanilla, and mashed bananas, and add them to the flour-and-butter mixture. Scrape the bowl and blend well. Don't overmix.
Fold the diced bananas, walnuts, granola, and coconut into the batter. Spoon the batter into the paper liners, filling each 1 to the top. Top each muffin with dried banana chips, granola, or coconut, if desired. Bake for 25 to 30 minutes, or until the tops are brown and a toothpick comes out clean. Cool slightly, remove from the pan, and serve.
MacGourmet Rating: 5 Stars