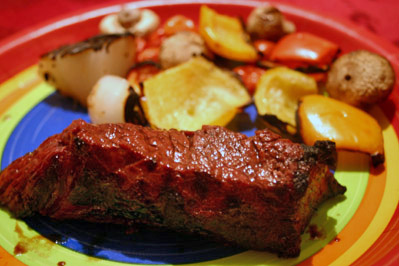 This post may contain affiliate links. Thank you for supporting the brands that keep me creative in my tiny kitchen!
What do you do when it's January in New York and it's 70°F? You marinate some meat and fire up the grill, of course! I couldn't believe how warm it was today, so I went out and got some Black Angus Sirloin Tips to marinate in one of Alton Brown's marinades. It turned out GREAT, even though looking at the recipe now, I realize that I left out the teriyaki sauce by accident. I'm sure it would only have made it better. The only other thing that I did differently was to mix the marinade in a bag, and set it in a bown in case it leaked. I didn't do the straw trick. It was super flavorful, and very moist. We also grilled some skewers of mushrooms, red, yellow, and orange bell peppers, onions, and grape tomatoes. It was so great to taste summer in what's supposed to be the dead of winter.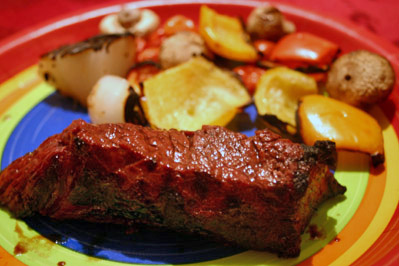 Rhapsody for Red (Meat)
I'm Just Here For the Food – Alton Brown
Software:
4 tablespoons soy sauce
4 tablespoons Worcerstershire sauce
2 tablespoons red wine vinegar
2 tablespoons teriyaki sauce
2 tablespoons lemon juice
2 cloves garlic, left whole but lightly crushed
1 tablespoon Dijon mustard
1 tablespoon extra virgin olive oil
Target cut of meat
Hardware:
Lidded plastic container
Large zip-top freezer bag
Plastic straw
Application: Marinating
Place all the ingredients in a lidded container and shake vigorously to combine. Place along with target cut of meat in a large zip-top freezer bag. Seal the bag until almost closed. Insert plastic straw in remaining opening and suck as much air as possible from the bag. Seal the bag completely and refrigerate 2 to 8 hours.
Remove the meat from the bag-do not rinse-and cook meat as desired.
Note: This recipe makes enough marinade for a single flank steak. For more or less meat, increase or decrease the amounts proportionately.
MacGourmet Rating: 5 Stars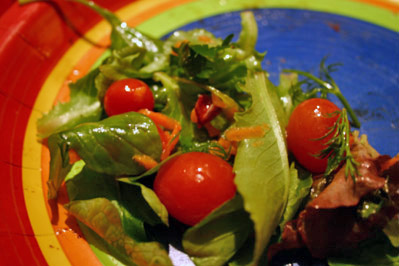 We had a salad alongside that was mesculin greens with fresh dill and parsley, some grape tomatoes and shredded carrot, and a dressing of olive oil and seasoned rice vinegar.