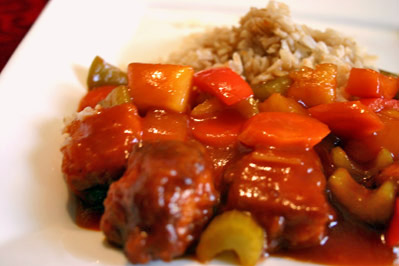 This post may contain affiliate links. Thank you for supporting the brands that keep me creative in my tiny kitchen!
My second attempt from this book was better than the first, but I'd need to omake some adjustments to the saue in the future. The sauce was way too vinegary. I'd cut back on that, and I'd probably reduce the amount of sauce all together. I cut the whole recipe in half, but it still made too much sauce. I also wouldn't have stirred in the tofu, I would have left it separate to prevent it from getting soggy (especially in leftovers). I'll definitely be trying this one again, but with those adjustments. I served it with brown rice. Be warned that this recipe takes a LOT of prep time. I find that with a lot of Chinese dishes, as there's a lot of things to chop, and usually a lot of ingredients for sauces/marinades.
I don't have a Dutch oven or electric fryer, so I used a soup pot. The batteries on my instant-read thermometer were dead too, so I just winged it without measuring the temperature and it turned out fine. The texture of the tofu was great – it's just too bad that the sauce made it soggy.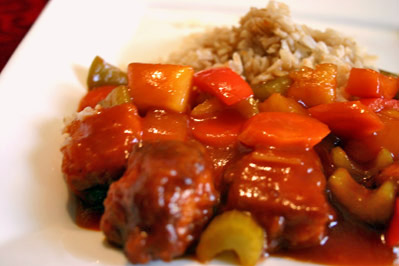 Sweet-and-Sour Tofu
I'm Just Here For the Food – Alton Brown
Software:
2 pounds firm tofu
1 cup soy sauce
2 tablespoons garlic, minced
3 tablespoons ginger, minced
½ cup flour, plus more for dredging
½ cup cornstarch
kosher salt
freshly ground black pepper
vegetable oil, for frying
3 cups ketchup
¾ cup sugar
2 cups red wine vinegar
¼ cup honey
2 tablespoons canola oil
1 tablespoon sesame oil
1 cup Vidalia onion, chopped
1 cup carrots, sliced 1/4 inch thick on a bias
1 cup red bell pepper, chopped
1 cup green bell pepper, chopped
2 cups fresh pineapple (canned is too sweet), cubed (1-inch pieces)
Hardware:
2 baking sheets
Paper towels
Cans of food for weight
2 small and 1 large mixing bowl
Electric fryer or heavy Dutch oven fitted with a fat/candy thermometer
Small roasting pan or large sauté pan
Wooden spoon
Large serving platter
Applications: Marinating, Immersion-Frying, Sautéing
Drain the tofu, slice each "brick" lengthwise into 4 equal pieces, and set on a baking sheet lined with paper towels. Place a couple of paper towels on top, cover with a second baking sheet, and weight with cans of food. Set aside for at least 30 minutes, then cut into 2-inch cubes and place in a large mixing bowl. In a small mixing bowl, combine the soy sauce, garlic, 1 teaspoon of the ginger, 1/2 cup flour, and the cornstarch. Pour over the tofu and allow to marinate, refrigerated, overnight. Drain off any excess liquid (there won't be much; it gets pretty sticky), and dredge the tofu in flour seasoned with salt and pepper. In an electric fryer, heat the vegetable oil to 350° F and fry the tofu until golden brown on all sides. Work in small batches, setting the fried tofu aside on a warm plate.
In another small bowl, combine the ketchup, sugar, vinegar, and honey, and mix to blend. Set the sauce aside.
In a small roasting pan over medium heat, heat the canola and sesame oils. Sauté the remaining ginger in the oil for 30 seconds, then add the vegetables and pineapple. Raise the heat to high; you should get a little caramelization without softening the vegetables too much. Work in batches if necessary. Add the tofu to the vegetables and pour in as much sauce as you like. Bring to a simmer and cook until the sauce is bubbling and has a nice shine. Remove to a platter and serve with any remaining sauce on the side.
Yield: 8 servings
Note: Firm tofu is sold in 1-pound bricks. It is important to slice lengthwise so the pan will weight equally on each piece and the pieces will be pressed evenly.
MacGourmet Rating: 4 Stars (with a possibility of 5 with adjustments)