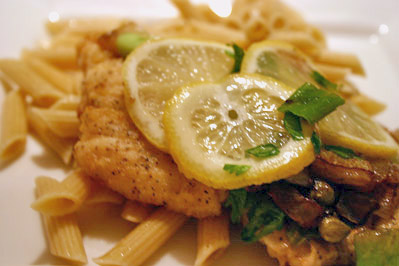 This post may contain affiliate links. Thank you for supporting the brands that keep me creative in my tiny kitchen!
I got one of Alton Brown's books for Christmas, so I decided to make a few recipes from it after Christmas was over. I picked this one out and it was pretty good, but I'll have to give it another try because I wasn't back into the swing of cooking again after being away from home for a week and I made a few goofs when I was preparing it. I served it with some Barilla Plus penne.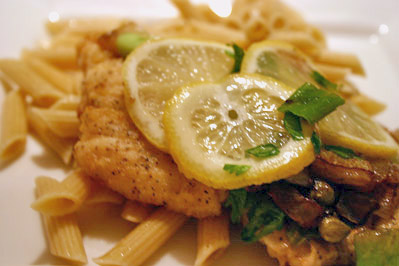 Chicken Piccata
I'm Just Here For the Food – Alton Brown
Software:
2 boneless skinless chicken breasts, cut in half
kosher salt
freshly ground black pepper
flour, for dredging plus 1 teaspoon
2 tablespoons canola oil
3 tablespoons butter
½ yellow onion, chopped
3 cloves garlic, minced
6 scallions, chopped
⅓ to ½ cup sweet vermouth, sherry, or white wine
1 large lemon, juiced
1 lemon, sliced
1 tablespoon capers, rinsed and lightly crushed
2 tablespoons parsley, chopped
Hardware:
Plastic Wrap
Smooth mallet or heavy sauce pot
Container for dredging
Large skillet or electric skillet with lid
Tongs
Application: Pan-Braise
Place the chicken breasts, one at a time, on a sheet of plastic wrap; fold the wrap over to cover. Using the mallet, pound each breast to a uniform thickness of 1/4 inch. Season the chicken liberally with the salt and pepper, dredge in the flour, shaking off any excess.
In a heavy skillet just big enough to hold all the chicken, heat the oil and 2 tablespoons of butter. When the oil and butter stop sizzling, add the chicken and cook, turning once, until just brown on both sides. Remove the chicken to a plate. Pour off any grease from the pan and add the remaining tablespoon of butter.
Add the onion to the skillet and sauté until translucent. Add the garlic and the scallions and sauté 1 more minute. Sprinkle 1 teaspoon of the flour over the vegetables and toss to combine.
Deglaze the pan with vermouth and the lemon juice. Add the capers and toss to combine. Return t he chicken to the pan, cover, and reduce heat to low, simmering until chicken is cooked through, about 4 minutes. Correct the seasoning with salt and pepper if necessary, and serve on a warm platter garnished with the parsley and lemon slices.
Yield: 2 servings
MacGourmet Rating: 4 Stars