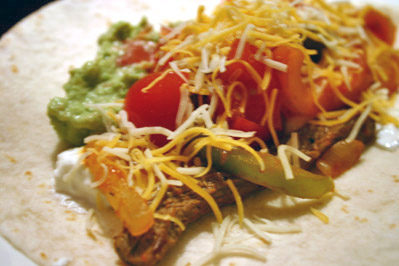 This post may contain affiliate links. Thank you for supporting the brands that keep me creative in my tiny kitchen!
We have a cast iron skillet that we got from a friend a while back. It usually comes out at breakfast time on the weekends to make homefries, but we don't often use it for dinner foods. I decided to try out making some steak fajitas on it and WOW!! it was fantastic!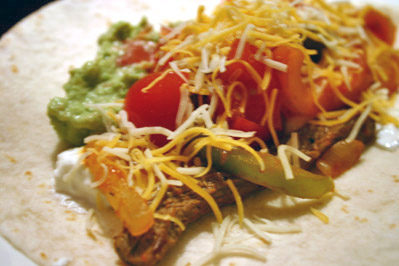 We simply fried up some strips of steak in the skillet that were coated with a southwestern blend of spices that we made a while back. There's cumin, chile powder, garlic powder, salt, pepper, onion powder and a lot paprika. We threw some medium salsa on while it was cooking. We removed the steak, and then put an onion, red and green bell pepper that had been sliced into the skillet and cooked them down.
For toppings (which I like a lot of in comparison to meat), we used some freshly made guacamole (avocados smashed up with lots of cilantro, onion, lime juice, tomatoes, and some sour cream and salt), mexican blend of cheese, tomatoes, sour cream and taco sauce. I served it with refried beans (you just add some water to the canned beans and simmer it to make the consistency nicer) and some white rice that I cooked in chicken broth instead of water with a little saffron.
A pretty simple meal with a LOT of flavor.