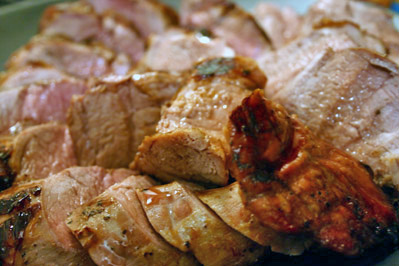 Pork Tenderloin with Pomegranate Glaze
This post may contain affiliate links. Thank you for supporting the brands that keep me creative in my tiny kitchen!
This recipe turned out good, but there are serious issues with the recipe. First off, you have to cook the glaze on the stove for MUCH longer than 8 minutes to get it to reduce to 1/2 cup. Secondly, this is the second recipe I've seen that says to cook a pork tenderloin for 15 – 20 minutes. This is simply not enough time. I ended up cooking it for 40 – 45 minutes. Since the glaze was sweet, it burned on the pan, but luckily not on the actual meat. What a mess. It turned out to be tasty, but I was embarrassed making it for company when my kitchen was filled with smoke. I'd try this one again, but I'd make some MAJOR adjustments to the timing.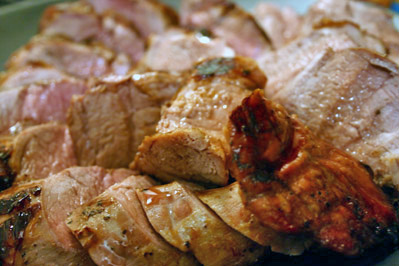 Pork Tenderloin with Pomegranate Glaze
Cooking Light November 2006
For safety reasons, a portion of the glaze is kept separate to baste the pork while raw and during cooking; the remainder is served with the cooked roast. The glaze will thicken significantly if made ahead; microwave at HIGH for a few seconds at a time, stirring after each heating, until glaze is thinned.
2 cups pomegranate juice
1/4 cup sugar
2 (3/4-pound) pork tenderloins, trimmed
1/2 teaspoon salt
1/4 teaspoon freshly ground black pepper
Cooking spray
Preheat oven to 450°.
Combine juice and sugar in a medium saucepan over medium heat, and bring to a boil. Cook until reduced to 1/2 cup (about 8 minutes). Pour half of glaze into a small bowl; set aside.
Sprinkle pork evenly with salt and pepper. Place pork on the rack of a broiler pan coated with cooking spray; place rack in pan. Brush pork with half of glaze in saucepan. Bake at 450° for 15 minutes or until a thermometer registers 145°. Baste pork with remaining glaze in saucepan; cook an additional 5 minutes or until thermometer registers 155°.
Remove pork from oven; baste with half of glaze in bowl. Let pork stand 10 minutes. Cut pork across grain into thin slices. Serve pork with glaze mixture.
Yield: 6 servings (serving size: 3 ounces pork and 2 teaspoons glaze mixture)
NUTRITION PER SERVING
CALORIES 215(16% from fat); FAT 3.9g (sat 1.3g,mono 1.8g,poly 0.4g); PROTEIN 24.2g; CHOLESTEROL 74mg; CALCIUM 19mg; SODIUM 263mg; FIBER 0.0g; IRON 1.5mg; CARBOHYDRATE 20.1g
MacGourmet Rating: 4 Stars