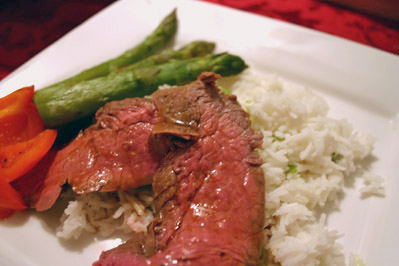 This post may contain affiliate links. Thank you for supporting the brands that keep me creative in my tiny kitchen!
This was a quick and delicious meal. The steak and sauce was extremely flavorful. I didn't expect so much from so few ingredients. I took the suggestion and threw some green onions into my rice, and also steamed some asparagus and red bell pepper on the side. The flank steak was pretty rare, which Dino loves, but I'd probably cook it a tad longer next time. I still had seconds though, so I guess I didn't mind too much!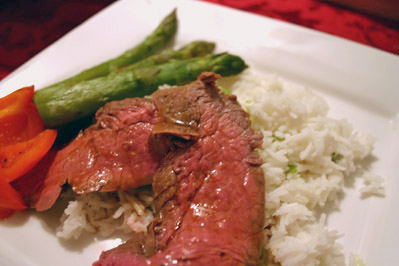 Ponzu-Glazed Flank Steak
Cooking Light December 2006
Quick-cooking rice with green onions is an ideal side to soak up the pan sauce. For some color on the plate, sauté bell pepper slices and drizzle with sesame oil.
2 tablespoons fresh lemon juice
2 tablespoons fresh lime juice
2 tablespoons low-sodium soy sauce
1 tablespoon honey
2 teaspoons bottled ground fresh ginger (such as Spice World)
1 (1-pound) flank steak, trimmed
Preheat broiler.
Combine first 5 ingredients in a small saucepan over medium-high heat; bring to a boil. Cook 3 minutes, and remove from heat.
Place steak on a foil-lined broiler pan. Brush half of soy mixture over steak; broil 5 minutes or until browned. Turn steak over; brush with remaining soy mixture. Broil for 5 minutes or until browned. Remove from oven; wrap foil around steak. Let stand 5 minutes before slicing. Serve steak with pan juices.
Yield: 4 servings (serving size: 3 ounces steak and 1 tablespoon pan juices)
NUTRITION PER SERVING
CALORIES 188(30% from fat); FAT 6.2g (sat 2.3g,mono 2.2g,poly 0.2g); PROTEIN 25.1g; CHOLESTEROL 37mg; CALCIUM 31mg; SODIUM 330mg; FIBER 0.3g; IRON 2.1mg; CARBOHYDRATE 7.1g
MacGourmet Rating: 5 Stars