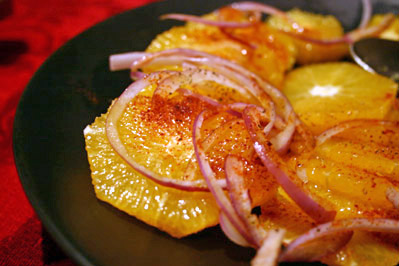 Orange and Red Onion Salad with Red Pepper
This post may contain affiliate links. Thank you for supporting the brands that keep me creative in my tiny kitchen!
This side dish has an unexpected burst of flavor. Oranges and red onions work very well together, and the cayenne gives it a lot of kick. You may want to start out with less if you aren't a fan of spicy food, because this dish packs a lot of punch in each bite. I'll definitely make this one again!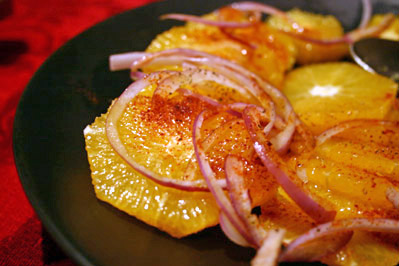 Orange and Red Onion Salad with Red Pepper
Cooking Light December 2006
This simple salad is a refreshing start to winter meals at Simpatica Dining Hall. You can garnish with fresh mint or flat-leaf parsley, if desired.
18 (1/4-inch-thick) orange slices (about 4 oranges)
1/2 cup vertically sliced red onion
1/2 teaspoon sea salt
1/4 teaspoon freshly ground black pepper
1/4 teaspoon ground red pepper
2 tablespoons extravirgin olive oil
Arrange orange slices in a single layer on a platter. Top evenly with onion. Sprinkle with salt, black pepper, and red pepper. Drizzle with oil. Serve immediately.
Yield: 6 servings (serving size: 3 orange slices and about 5 onion pieces)
NUTRITION PER SERVING
CALORIES 93(54% from fat); FAT 4.9g (sat 0.7g,mono 3.6g,poly 0.5g); PROTEIN 0.8g; CHOLESTEROL 0.0mg; CALCIUM 46mg; SODIUM 192mg; FIBER 2.6g; IRON 0.2mg; CARBOHYDRATE 12.7g
MacGourmet Rating: 4 Stars