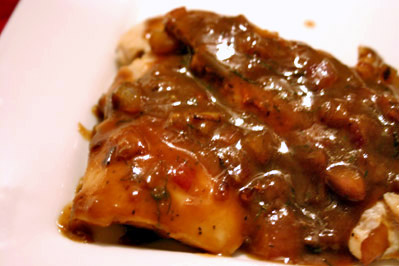 Pan-Roasted Chicken Cutlets with Maple-Mustard Dill Sauce
This post may contain affiliate links. Thank you for supporting the brands that keep me creative in my tiny kitchen!
I thought that this recipe sounded promising, but I was definitely wrong. There are too many strong flavors that compete to be at the forefront of this dish – maple, orange, dill and dijon, and it just ends up tasting like a really potent mess. I don't know if it was the combination of these ingredients or the amounts, but it just didn't work.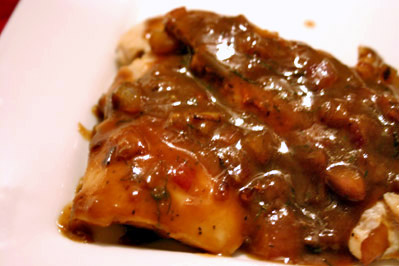 Pan-Roasted Chicken Cutlets with Maple-Mustard Dill Sauce
Cooking Light November 2006
Pounding chicken breast halves ensures they'll cook quickly and evenly. Serve with pasta to soak up all the flavorful sauce.
4 (6-ounce) skinless, boneless chicken breast halves
1/4 teaspoon salt
1/4 teaspoon black pepper
Cooking spray
2 tablespoons chopped red onion
6 tablespoons maple syrup
1/4 cup Dijon mustard
1 tablespoon water
1 teaspoon chopped fresh dill
1 teaspoon grated orange rind
Place each chicken breast half between 2 sheets of heavy-duty plastic wrap; pound each to 1/4-inch thickness using a meat mallet or small heavy skillet. Sprinkle chicken evenly with salt and pepper. Heat a large nonstick skillet over medium-high heat. Coat pan with cooking spray. Add chicken to pan; cook 4 minutes or each side or until done. Remove chicken from pan.
Reduce heat to medium. Add onion to pan; cook 1 minute. Add syrup and remaining ingredients; cook 1 minute or until thoroughly heated, stirring frequently. Serve sauce with chicken.
Yield: 4 servings (serving size: 1 chicken breast half and about 2 tablespoons sauce)
NUTRITION PER SERVING
CALORIES 287(11% from fat); FAT 3.5g (sat 0.6g,mono 1g,poly 0.9g); PROTEIN 40.3g; CHOLESTEROL 99mg; CALCIUM 63mg; SODIUM 640mg; FIBER 0.3g; IRON 2mg; CARBOHYDRATE 22.5g
MacGourmet Rating: 2 Stars