This post may contain affiliate links, which won't change your price but will share some commission.
I'm trying really hard to like seafood, and tuna steaks are something that I'll eat sometimes when we go out to dinner. So Dino looked up a recipe so that we could try them at home. He originally made the sauce the way that the recipe called for, but decided it needed some changes, so I'm posting what he did to it. It was really good!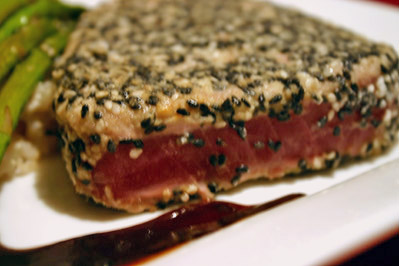 Sesame Tuna with Soy Miso Dressing
Adapted from allrecipes.com
YIELD: 2 steaks
PREP TIME: 20 Min
COOK TIME: 4 Min
READY IN: 24 Min
½ cup dark and light sesame seeds
½ teaspoon seasoning salt
1 teaspoon ground white pepper
1 teaspoon onion powder
1 tablespoon wasabi powder
1 teaspoon coarse kosher salt
½ cup all-purpose flour
2 eggs
3 fluid ounces milk
2 (4 ounce) tuna steaks (about ¾ inch thick)
2 tablespoons vegetable oil
1 (1.1ounce) package miso soup mix
1 tablespoon low sodium soy sauce
1 ½ tablespoons honey
¼ cup water
½ teaspoon sesame oil
1. In a shallow bowl, mix together sesame seeds, seasoning salt, white pepper, onion powder, wasabi powder, kosher salt and flour; set aside. In a separate bowl, mix together the eggs and milk.
2. Dip tuna steaks in the egg mixture, then dredge in the flour mixture until well coated on both sides. Heat the vegetable oil in a large heavy skillet over medium-high heat. Fry tuna steaks for 2 minutes per side, and immediately remove from heat. The inside of the fish should still be red.
3. To make the soy miso dressing, mix together the miso soup mix, soy sauce, water and honey. Heat in a small saucepan or microwave, and drizzle over steaks.
MacGourmet Rating: 5 Stars