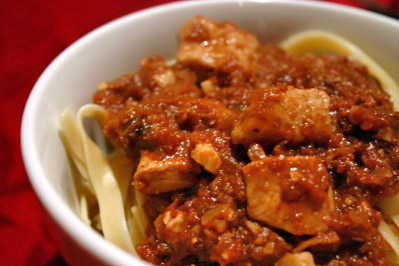 Pork Mole Over Fettuccini
This post may contain affiliate links. Thank you for supporting the brands that keep me creative in my tiny kitchen!
Dinner tonight was a little spicy, and really good! I used pork chops that I cut the fat off of, so it probably ended up only being 3/4 pound of pork. The next time I make this (and I will make it again!), I'll probably either up the amount of pork, or I'll cut the sauce in half, as it seemed to be swimming in sauce. But then again, I don't like putting a ton of sauce on my pasta.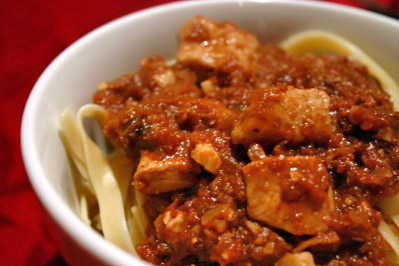 Pork Mole Over Fettuccini
Whole Foods Marketplace
2 tablespoons canola oil, divided
1 pound lean pork, cut into 1/2 inch cubes
1 medium yellow onion, chopped
1 can (28 oz) diced tomatoes
1 – 2 teaspoons chili with garlic sauce
⅔ cup raisins
½ cup chicken broth or water
¼ cup sliced almonds
4 teaspoons cocoa powder
1 teaspoon oregano
1 teaspoon cumin
pinch of each cinnamon, cloves, and nutmeg
to taste sea salt
16 ounces (dry) fettuccini noodles
Southwestern flavors of chilies and cocoa season the tender pork atop Italian noodles in this fusion twist on a traditional dish. Spiced with cumin, cinnamon, cloves and nutmeg, this simple mole sauce is quickly prepared in the blender and then simmered along with the pork. Serve with a fresh green salad for a delightful meal.
Heat 1 tablespoon of canola oil in large skillet. Sauté the pork over medium heat, turning often until browned on all sides. Remove to a plate and set aside. Using the same skillet heat the remaining tablespoon of oil.
Sauté the onion for 5 minutes. Place the onion in a blender with tomatoes, chili sauce, raisins, broth, almonds, cocoa powder, oregano, cumin, cinnamon, cloves, nutmeg and salt. Pulverize until almost smooth.
Return pork to the skillet and top with blended sauce. Simmer over low heat for 15 to 20 minutes. While pork is simmering, cook the fettuccini according to package instruction. Adjust seasonings to taste and serve over fettuccini.
Nutritional information per serving:
Per Serving (527g-wt.): 810 calories (170 from fat), 19g total fat, 3.5g saturated fat, 10g dietary fiber, 45g protein, 120g carbohydrate, 65mg cholesterol, 770mg sodium
MacGourmet Rating: 4 Stars