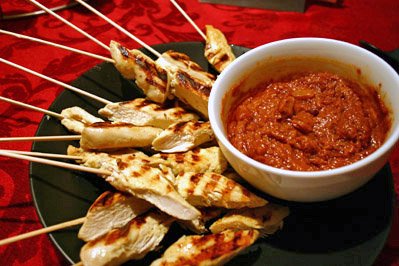 Grilled Lemon Chicken Skewers with Satay Dip | Cucumber Salad
This post may contain affiliate links. Thank you for supporting the brands that keep me creative in my tiny kitchen!
I love getting chicken satay out at Thai restaurants, so I wanted to try making it for myself. This recipe is wonderfully flavorful! I only marinated it for about 3 hours, so I'm sure it's even better when you let it go for 6 or overnight. The dipping sauce is a tangy twist on the satay sauces I've had before. I grilled it indoors on our Cuisinart Griddler.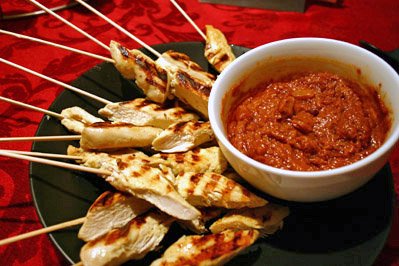 Grilled Lemon Chicken Skewers with Satay Dip
The Barefoot Contessa Cookbook
Difficulty: Easy
Prep Time: 25 minutes
Inactive Prep Time: 6 hours
Cook Time: 35 minutes
Yield: 8 to 10 servings
3/4 cup freshly squeezed lemon juice (4 lemons)
3/4 cup good olive oil
2 teaspoons kosher salt
1 teaspoon freshly ground black pepper
1 tablespoon minced fresh thyme leaves, or 1/2 teaspoon dried thyme
2 pounds boneless chicken breasts, halved and skin removed
Satay Dip, recipe follows
Whisk together the lemon juice, olive oil, salt, pepper, and thyme. Pour over the chicken breasts in a nonreactive bowl. Cover and marinate in the refrigerator for 6 hours or overnight.
Heat a charcoal grill. Grill the chicken breasts for 10 minutes on each side, until just cooked through. Cool slightly and cut diagonally in 1/2-inch-thick slices. Skewer with wooden sticks and serve with Satay Dip.
Satay Dip:
1 tablespoon good olive oil
1 tablespoon dark sesame oil
2/3 cup small-diced red onion (1 small onion)
1 1/2 teaspoons minced garlic (2 cloves)
1 1/2 teaspoons minced fresh ginger root
1/4 teaspoon crushed red pepper flakes
2 tablespoons good red wine vinegar
1/4 cup light brown sugar, packed
2 tablespoons soy sauce
1/2 cup smooth peanut butter
1/4 cup ketchup
2 tablespoons dry sherry
1 1/2 teaspoons freshly squeezed lime juice
Cook the olive oil, sesame oil, red onion, garlic, ginger root, and red pepper flakes in a small, heavy-bottomed pot on medium heat until the onion is transparent, 10 to 15 minutes. Whisk in the vinegar, brown sugar, soy sauce, peanut butter, ketchup, sherry, and lime juice; cook for 1 more minute. Cool and use as a dip for Grilled Lemon Chicken skewers.
Yield: 1 1/2 cups
MacGourmet Rating: 5 Stars
I made a cucumber salad to go along with the satay, but I wasn't crazy about it. I think that fresh basil and mint overpower it. It was also way too many ingredients (as Rachael tends to do). Next time, I'll try something simpler, with red onion, cucumber, and a sauce.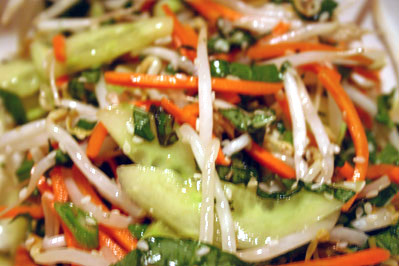 Cucumber Salad
Rachael Ray
1/2 seedless cucumber, peeled, halved lengthwise and thinly sliced on an angle
2 cups fresh bean sprouts
1 cup shredded carrots, available in pouches in produce department
3 scallions, sliced on an angle
12 leaves basil, chopped or torn
3 tablespoons chopped mint leaves (4 sprigs)
1 tablespoon sesame seeds
2 teaspoons sugar
2 tablespoons rice wine vinegar or white vinegar
Salt
Combine cucumber, sprouts, carrots, scallions, basil, mint and sesame with a generous sprinkle of sugar and vinegar. Season salad with salt, to taste.
MacGourmet Rating: 3 Stars