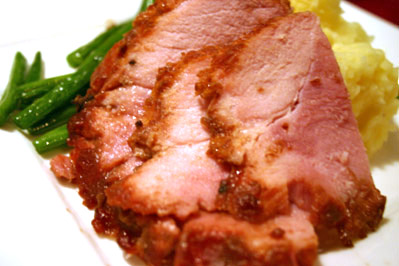 Fully Festive Ham | Haricot Vert French Beans
This post may contain affiliate links. Thank you for supporting the brands that keep me creative in my tiny kitchen!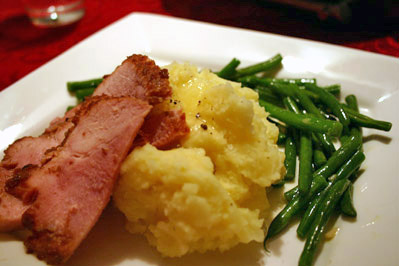 I saw an episode of Nigella Feasts where she was making this amazing ham, and I really wanted to try it out. When i got to the store, however, I realized that you can only buy HUGE hams that aren't already cooked. Since there are only 2 of us in my house, I decided to get a ham that was already cooked, but to use Nigella's glaze on it, and cook the ham according to the directions on it's own packaging. So I'll post the two recipes, but note that I only used the glaze from Nigella.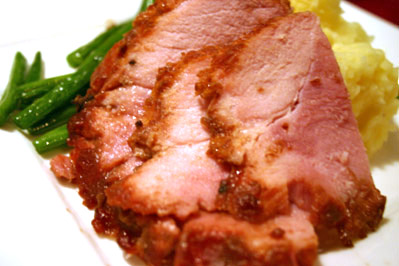 Fully Festive Ham
Nigella Feasts
Difficulty: Medium
Prep Time: 20 minutes
Cook Time: 5 hours
Yield: 8 to 10 servings
Ham:
7 1/2 pounds gammon (ham)
8 cups cranberry juice
8 cups apple juice
2 cinnamon sticks, halved
2 onions, halved but not peeled
1 tablespoon allspice berries
Cranberry glaze:
Approximately 30 cloves
4 tablespoons cranberry jelly, or 6 tablespoons cranberry sauce
1 tablespoon honey
1 tablespoon English mustard powder
1/2 teaspoon ground cinnamon
Put the ham into a large saucepan and cover with cold water. Bring to a boil and then immediately drain and rinse it in a colander, to remove any excess saltiness. Alternatively, leave the ham soaking in cold water overnight.
Rinse the saucepan and put the ham back in, and add all remaining ingredients. If the fruit juices do not cover the ham then add some water; it really depends on how snugly your ham fits into the saucepan.
Bring the pan to a boil and then cook at a fast simmer for about 3 1/2 to 4 hours. Partially cover the ham with a lid if the liquid is boiling away too much and the top of the ham is getting dry.
Once the ham is cooked, remove it from the hot and now salty juice, and sit it on a board. If you want, you can actually cook this far ahead of schedule and then let it get entirely cold before glazing and roasting it. If that's the case, then cook it for about 1/2 hour less and then just let it get cold in the cooking liquid.
On the day of cooking, preheat the oven to 425 degrees F.
When the ham is cool enough to touch then cut and peel the rind off the cooked ham, making sure to leave a thin coating of the white fat on the ham. Score the fat into a diamond pattern with a sharp knife, and stud the points of each diamond with a clove.
Heat the remaining glaze ingredients together in a saucepan until the jelly or sauce melts into the honey, mustard, and cinnamon to make a smooth but syrupy glaze; it needs to be thick enough not to run off the ham completely as it cooks in the oven.
Sit the ham on a piece of foil in a roasting tin, which will give you an easier time later washing up, as the sugary glaze will burn as bits of it do inevitably dribble down the ham. Pour the glaze over the clove studded ham so that all of the scored fat is covered. Cook the ham for 15 minutes or until the fat is colored and burnished by the sugary glaze.
If the ham is completely cold prior to glazing, then cook for 40 minutes at 350 degrees F, and turn up the heat to 425 degrees F for another 15 minutes. These timings are based on the ham being cold at room temperature, not refrigerator cold.
MacGourmet Rating: 4 Stars
Boneless Smoked Ham
Boar's Head Sweet Slice
1 sweet slice ham
½ cup water
Boar's Head Brown Sugar & Spice Ham Glaze Cooking Sauce
-Remove ham from packaging and lightly score ham with a sharp knife.
-Place in shallow roasting pan.
-Add 1/2 cup of water to the pan.
-Pat a thin layer of glaze on the ham.
-Tent ham with aluminum foil, sealing edges tightly to the pan.
-Bake in preheated 325° oven 15 minutes per pound.
-Remove ham 15 minutes before it finishes baking.
-Remove foil and apply additional glaze if desired.
-Raise oven temperature to 425° and bake uncovered for remaining 15 mintues.
I served the ham with mashed potatoes and a green bean recipe that I got from Stew Leonard's after having a sample at the store. The recipe is written REALLY poorly, and the way it's written is NOT how it tasted in the store. It needs lots of garlic, and to cook in the stock for a while in my opinion.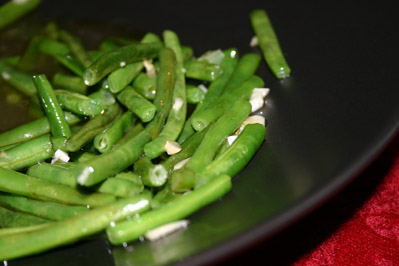 Haricot Vert French Beans
Stew Leonard's
1-Add 2 Tablespoons of any Oil.
2-Add any Garlic.
3-Add French Beans, cook for 5 min until soft.
4-Add 2 teaspoons of chicken broth and a pinch of salt.
5-Ready to serve.
MacGourmet Rating: 3 Stars