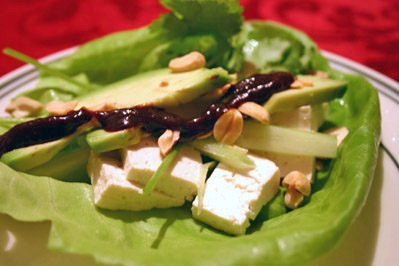 Vegetable and Tofu Lettuce Wraps with Miso Sambal
This post may contain affiliate links. Thank you for supporting the brands that keep me creative in my tiny kitchen!
Saturday night, I had some tofu that needed to get used up, so I made this spicy appetizer. I couldn't find white miso, so i used black. I also used Sriracha for the chile paste. It ended up tasting like spicy hoisin sauce. I don't know if I'd make that from scratch again. The recipe is a great appetizer though, and it's really healthy. Now I have to search out other recipes to use up the rest of that package of miso!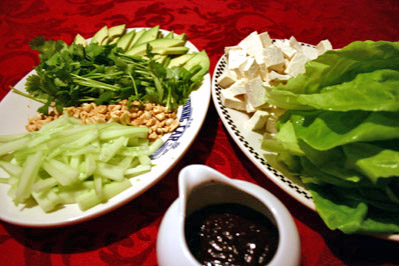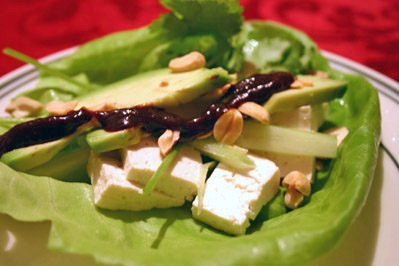 Vegetable and Tofu Lettuce Wraps with Miso Sambal
Cooking Light November 2005
In this appetizer, the fresh flavors of the vegetables come alive with the spicy, gingery sambal. This popular Indonesian condiment takes on many variations of the basic combination of chiles, brown sugar, and salt. Prepare a double batch, and serve the extra with fish. The creamy texture of the avocado pieces and tofu slices are a pleasant contrast to the crisp vegetables.
Miso sambal:
2 tablespoons chile paste with garlic (such as Sambal oelek)
2 tablespoons chopped peeled fresh ginger
2 tablespoons white miso (soybean paste)
2 tablespoons rice wine vinegar
1 1/2 tablespoons sugar
1 1/2 teaspoons dark sesame oil
Wraps:
1 cup matchstick-cut English cucumber
1/2 cup cilantro sprigs
2 tablespoons chopped dry-roasted peanuts
1 (12.3-ounce) package reduced-fat firm tofu, drained and cut into 1/2-inch-thick strips
1/2 avocado, peeled and thinly sliced
12 large Boston lettuce leaves
To prepare miso sambal, combine the first 6 ingredients in a blender, and process until smooth. To prepare wraps, divide cucumber, cilantro, peanuts, tofu, and avocado evenly among lettuce leaves. Drizzle each with about 1 1/2 teaspoons sambal; roll up.
Yield: 6 servings (serving size: 2 wraps)
CALORIES 106(51% from fat); FAT 6g (sat 0.9g,mono 2.9g,poly 1.5g); PROTEIN 5.5g; CHOLESTEROL 0.0mg; CALCIUM 27mg; SODIUM 261mg; FIBER 1.5g; IRON 1.1mg; CARBOHYDRATE 8.5g
MacGourmet Rating: 4 Stars