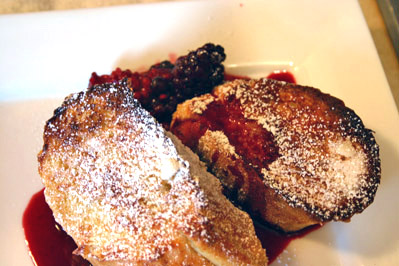 This post may contain affiliate links. Thank you for supporting the brands that keep me creative in my tiny kitchen!
This morning, I made a dish that I thought sounded heavenly. I absolutely love berries, and I love french toast. I figured it'd be hard to go wrong. Well…it wasn't exactly wrong – it just didn't have enough sugar and the dish was way too tart overall. I'd be willing to try it again in the future, but I'd toss the berries in sugar as well as putting some on top before baking it. This one really has potential, it just didn't suit our tastes the way it was written.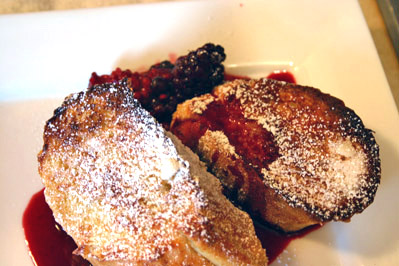 Berry French Toast
Cooking Light April 2004
2 cups frozen blueberries
1 1/2 cups frozen blackberries
1 1/2 cups frozen raspberries
3/4 cup granulated sugar
1 Tbsp cornstarch
1 tsp ground cinnamon
Cooking spray
1 cup fat-free milk
1 tsp vanilla extract
4 lg egg whites, lightly beaten
1 lg egg, lightly beaten
1 (8 oz) loaf French bread, cut into 1″ slices
1 Tbsp granulated sugar
1 Tbsp powdered sugar
This dish is great for lazy mornings when you don't feel like standing at the stove. Egg-rich French toast bakes atop a mixture of sweetened berries.
Preheat oven to 350°.
Combine first 6 ingredients in a 13 x 9-" baking dish coated with cooking spray. Combine milk, vanilla, egg whites, and egg in a large, shallow baking dish, stirring well with a whisk. Add bread, turning to coat. Let stand 5 minutes, turning bread occasionally. Arrange bread in a single layer over berries. Sprinkle evenly with 1 Tbsp granulated sugar. Bake at 350° for 30 min. or until golden brown and bubbly. Sprinkle evenly with powdered sugar.
Yield: 6 servings
CALORIES 374(6% from fat); FAT 2.7g (sat 0.6g,mono 0.9g,poly 0.7g); PROTEIN 9.2g; CHOLESTEROL 36mg; CALCIUM 114mg; SODIUM 300mg; FIBER 7.4g; IRON 2.1mg; CARBOHYDRATE 80.4g
MacGourmet Rating: 3 Stars