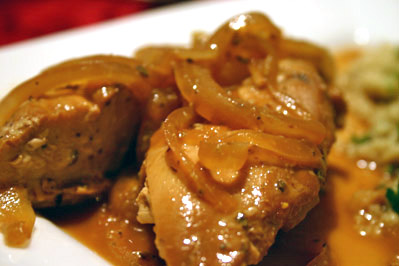 Middle Eastern Chicken | Couscous wuth Cuminseed and Scallion
This post may contain affiliate links. Thank you for supporting the brands that keep me creative in my tiny kitchen!
Last night, I put together the ingredients to marinate tonight's main course for a full day. It made it pretty easy to throw it together after a long day at work today. The chicken was really moist, but the flavors didn't strike me as too "Middle Eastern". It was more Asian influenced to me. It was good, but I probably wouldn't make it again. I decided to make couscous on the side since the recipe recommended it.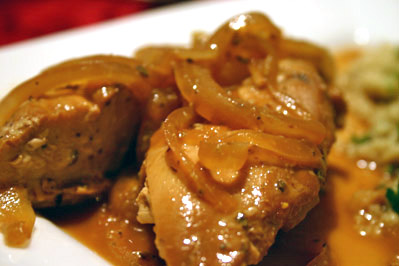 Middle Eastern Chicken
Gourmet Magazine May 1996
¼ cup low sodium soy sauce
½ cup plus 2 tablespoons water
3 tablespoons fresh lime juice
2 teaspoons dry Sherry
2 cloves garlic, minced
1 teaspoon fresh gingerroot, peeled and minced
¼ teaspoon curry powder
¼ teaspoon dried thyme, crumbled
¼ teaspoon dried oregano, crumbled
2 (about 1 1/4 pounds) skinless boneless chicken breasts, halved
vegetable oil cooking spray
1 small onion, sliced thin
Accompaniment: cooked couscous if desired
In a ceramic or glass container stir together soy sauce, 1/4 cup water, lime juice, Sherry, garlic, gingerroot, curry powder, thyme, and oregano and add chicken. Marinate chicken, covered and chilled, turning occasionally, at least 1 hour and up to 1 day.
Remove chicken from marinade and pat dry with paper towel. Reserve marinade.
Coat a large nonstick skillet with cooking spray Heat skillet over moderately high heat until hot but not smoking and cook chicken 1 minute on each side, or until browned. Transfer chicken to a plate. To skillet add 2 tablespoons water and cook, stirring with a wooden spoon and scraping up brown bits, 30 seconds. Add onion and cook over moderate heat, stirring occasionally, until softened. Add chicken, reserved marinade and remaining 1/4 cup water and simmer, covered basting chicken frequently,10 minutes, or until chicken is cooked through. Serve chicken over couscous if desired.
Each serving about 247 calories and 4 grams fat (17% calories from fat).
Serves 4.
MacGourmet Rating: 3 Stars
The couscous recipe was fantastic! The combination of ingredients make it a really refreshing dish. I used wheat couscous, and I had an extra helping of it, and neglected to eat most of my chicken. I'll definitely make this one again. It has a ton of flavor for something that takes so little time.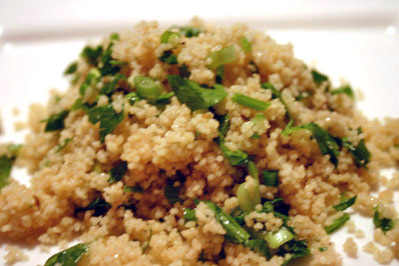 Couscous wuth Cuminseed and Scallion
Gourmet Magazine January 1990
1 tablespoon olive oil
¼ teaspoon cuminseed
¼ teaspoon salt
½ cup couscous
⅓ cup scallion, thinly sliced
3 tablespoons fresh parsley leaves, minced
In a small saucepan combine 3/4 cup water, the oil, the cuminseed, and the salt and bring the mixture to a boil. Stir in the couscous and let the mixture stand, covered, off the heat for 5 minutes. Fluff the mixture with a fork and stir in the scallion, the parsley, and salt and pepper to taste.
Serves 2.
MacGourmet Rating: 4 Stars