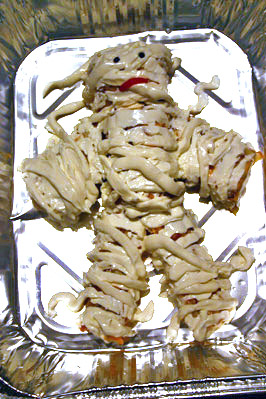 Yummy Mummy Cheese Spread
This post may contain affiliate links. Thank you for supporting the brands that keep me creative in my tiny kitchen!
Saturday night, we went to a Halloween party, and I wanted to bring something spooky for a snack. I saw this posted on the CLBB and just had to make it! I didn't have any pastry tips, so I just squeezed it through the hole in the bag. I'm sure it would have turned out better if I would have had one, but it was still adorable. I couldn't find port logs, so I just used plain cheddar. I surrounded it with veggie crackers and it was a huge hit at the party!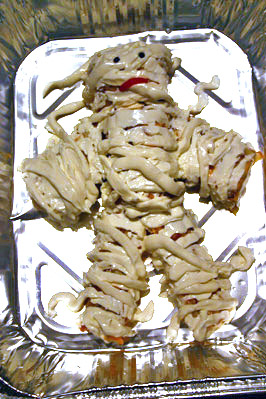 Yummy Mummy Cheese Spread
Taste of Home
"My annual Halloween bash wouldn't be the same without the now famous Mummy Man," says Rebecca Eremich of Barberton, Ohio. "When kids first see Mummy Man, they wonder if they can actually eat him. I assure them they can, and we hack off a foot or an arm with some crackers."
2 port wine cheese logs (12 ounces each)
1 package (8 ounces) cream cheese, softened
1 Tbs milk
2 whole peppercorns
1 pimiento strip
1 Cut cheese logs into pieces for mummy's head, body, arms and legs; arrange on a serving plate.
2 In small mixing bowl, beat cream cheese and milk. Cut a small hole in the corner of a pastry or plastic bag; insert basket weave tip #47. Pipe rows across the mummy, creating bandages. Add peppercorns for eyes and pimiento strip for mouth. Chill until serving.
Yield: 1 cheese log.
Servings: 24
Preparation time: 30 minutes
Ready in: 30 minutes
MacGourmet Rating: 4 Stars