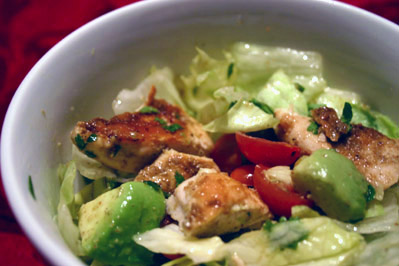 Lime Chicken Avocado Salad
This post may contain affiliate links. Thank you for supporting the brands that keep me creative in my tiny kitchen!
Tonight's dinner was light and refreshing, but I'll admit, I was ready for a snack not too long after dinner. I think the salad might be good without the chicken, but on the side of a chicken dish like fajitas. I'm just not much for salads for dinner I suppose. But the flavors were great, and the dressing was refreshing. I love avocado, so I used two instead of just one. I'd definitely make this again, as it was really easy to put together. Next time, it'll either be lunch or a side dish.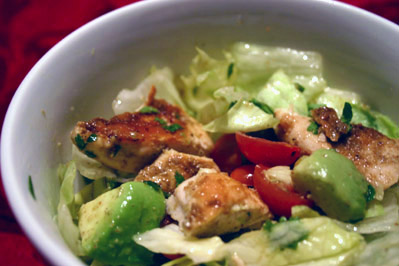 Lime Chicken Avocado Salad
Rachael Ray
5 tablespoons extra virgin olive oil
5 thin chicken breast cutlets
1 tablespoon ground coriander
1 tablespoon ground cumin
2 limes
1 ripe avocado
½ head iceberg lettuce, shredded
½ pint cherry tomatoes, cut in half
¼ cup fresh cilantro leaves, chopped
Preheat a large skillet over medium-high heat with 2 tablespoons of extra virgin olive oil. Season the chicken breasts with the cumin, coriander and salt and pepper; add to the hot skillet and cook for 2-3 minutes on each side, or until cooked through. Remove the chicken to the cutting board, squeeze the juice of 1 lime over the chicken, and allow it to cool slightly. Cut the avocado in half lengthwise, cutting around the pit. Separate the halves and using a spoon, scoop out the pit and then scoop the avocado from its skin. Chop the avocado flesh into bite-size pieces. Add to a mixing bowl. To the avocado, add the shredded iceberg lettuce, tomatoes and cilantro. Cut the chicken into thin strips and add to the bowl. Squeeze the juice of the remaining lime over the salad and drizzle with the remaining 3 tablespoons of extra virgin olive oil. Season with salt and pepper and toss to coat. Serve.
MacGourmet Rating: 4 Stars