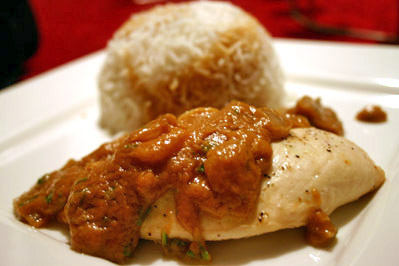 This post may contain affiliate links. Thank you for supporting the brands that keep me creative in my tiny kitchen!
On Saturday night, I tried out a recipe for one of my favorite Thai sauces. It turned out fantastic! I put it over some broiled chicken breasts that I seasoned with olive oil & seasoned salt, and served it next to some basmati rice drizzled with soy sauce. Next time, I'm going to try out a recipe for Thai cucumber salad with it.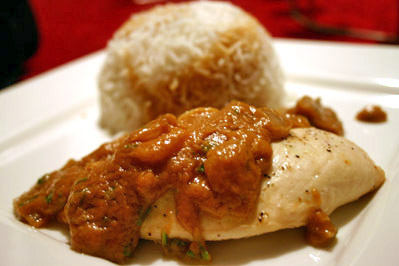 Thai Peanut Sauce
The City Gardener's Cookbook
1 cup onion, chopped
2 cloves garlic, minced
2 tablespoons fresh ginger, grated
3 tablespoons oil
1 jalapeno pepper, finely chopped
1 cup peanut butter
1 ½ cups water
¼ cup soy sauce or tamari
2 tablespoons honey
cilantro or Holy basil, for garnish
In a skillet, sauté the onions, garlic, and ginger in hot oil until tender. Add the jalapeño pepper, peanut butter, water, soy sauce or tamari, and honey and mix thoroughly. Slowly cook the sauce until it thickens. Serve with cilantro or basil as garnish.
Makes 4 cups
MacGourmet Rating: 5 Stars