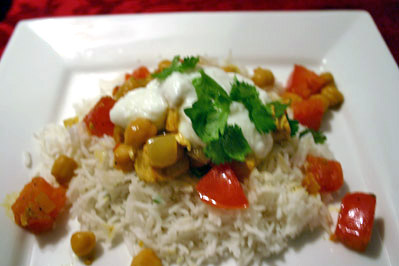 Curried Chick Peas and Tofu
This post may contain affiliate links. Thank you for supporting the brands that keep me creative in my tiny kitchen!
Tonight's dinner was really good! I'm trying to expand my tofu cooking skills lately. It made the house smell wonderful too! The mix of spices to make the curry were great, but next time I might just use the curry powder that I have, because it was pretty close. I served it with some basmati rice with cilantro tossed in, pitas and hummus. I topped it as suggested in the recipe, with yogurt and cilantro. This one will definitely be made again!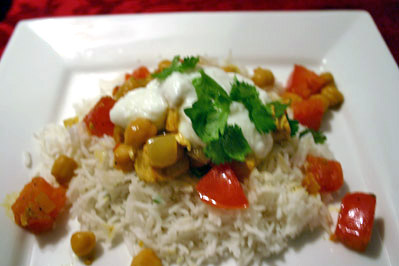 Curried Chick Peas and Tofu
Moosewood Cooks at Home
Serves 4
1 medium onion, chopped
1 clove garlic, minced or pressed
2 tablespoons vegetable oil
2 teaspoons ground cumin
1 teaspoon ground coriander
½ teaspoon turmeric
¼ teaspoon ground black pepper
pinch cayenne, (optional)
1 cake tofu (3/4 pound), cut into 1/2 inch cubes
2 cups cooked chick peas, (16 oz. can)
2 tomato, chopped (about 1 1/2 cup)
pinch salt, (or more to taste)
cilantro, chopped (optional)
plain yogurt, (optional)
Saute the onion and garlic in the oil until the onions are translucent, stirring occasionally. Stir in the cumin, coriander, turmeric, black pepper, and optional cayenne. Add the cubed tofu and cook for a minute or so, stirring constantly. Add the chick peas and about 1/2 cup of their liquid, and simmer for 5 minutes. Add the tomatoes and continue to cook until thoroughly heated. Add salt to taste.
Serve topped with cilantro and/or yogurt if you like.
Notes: serve over rice
Nutritional information per serving:
Per 8oz serving: 253 Cal, 11.7 G Protein, 10.5 G Carb, 360 MG Sodium, O MG Cholesterol
MacGourmet Rating: 4 Stars