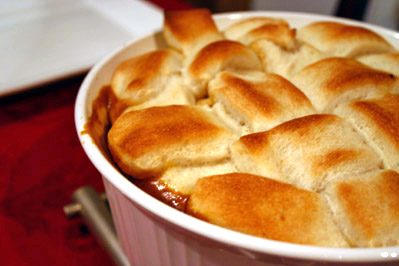 Beef and Vegetable Potpie
This post may contain affiliate links. Thank you for supporting the brands that keep me creative in my tiny kitchen!
Tonight I made a pot pie for the first time ever. It was good, but by no means great. It was kinda bland. I really enjoyed having zucchini in a pot pie though, it was different from anything else I've ever had. It needed some peppers or something to make it more flavorful. I think it would be a great base for other recipes – I liked the idea of putting the breadstick dough on top to form a pie, and the lattice turned out really pretty. I probably wouldn't repeat this one, but I'd consider trying to spice it up a bit, or I'd try putting that type of topping on other fillings.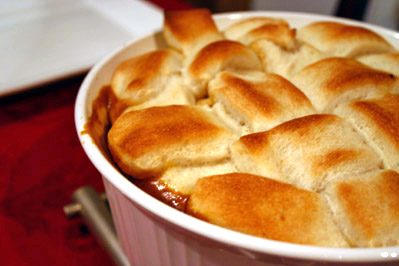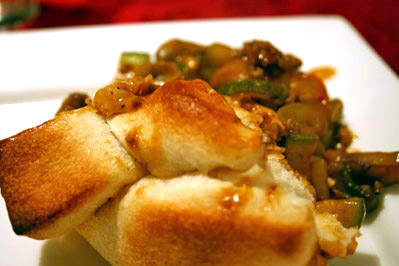 Beef and Vegetable Potpie
Cooking Light October 2006
1 tablespoon olive oil, divided
1 pound ground sirloin
2 cups zucchini, chopped
1 cup onion, chopped
1 cup carrot, chopped
1 teaspoon dried basil
½ teaspoon dried thyme
1 8 ounce package presliced mushrooms
3 cloves garlic, minced
½ cup dry red wine
¼ cup tomato paste
1 ½ teaspoons Worcerstershire sauce
½ teaspoon freshly ground black pepper
14 ounce can fat free, less sodium beef broth
2 tablespoons cornstarch
2 tablespoons water
cooking spray
11 ounce can refrigerated soft breadstick dough
The beef filling is first cooked in a large skillet on the stove top, then spooned into a baking dish. Finish the casserole in the oven to brown the breadstick dough topping. Total time: 42 minutes.
Preheat oven to 400°.
Heat 1 1/2 teaspoons oil in a large nonstick skillet over medium-high heat. Add beef; cook 3 minutes or until browned, stirring to crumble. Drain. Wipe drippings from pan with a paper towel. Heat remaining 1 1/2 teaspoons oil in pan. Add zucchini and next 6 ingredients (through garlic); sauté 7 minutes or until vegetables are tender. Return beef to pan. Stir in wine, tomato paste, Worcestershire sauce, pepper, and broth. Bring to a boil; cook 3 minutes. Combine cornstarch and 2 tablespoons water in a small bowl; stir with a whisk. Add the cornstarch mixture to the pan; cook 1 minute, stirring constantly.
Spoon beef mixture into an 11 x 7-inch baking dish coated with cooking spray. Separate breadstick dough into strips. Arrange strips in a lattice fashion over beef mixture. Bake at 400° for 12 minutes or until browned.
Yield: 6 servings (serving size: 1 1/3 cups)
Nutritional information per serving:
CALORIES 313(24% from fat); FAT 8.5g (sat 1.7g,mono 3g,poly 0.7g); PROTEIN 22g; CHOLESTEROL 40mg; CALCIUM 41mg; SODIUM 679mg; FIBER 2.7g; IRON 3.9mg; CARBOHYDRATE 37.6g
MacGourmet Rating: 3 Stars