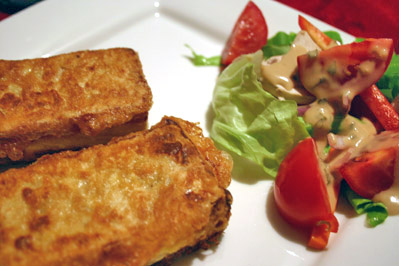 This post may contain affiliate links. Thank you for supporting the brands that keep me creative in my tiny kitchen!
Friday night I decided to try one of Alton Brown's recipes. I had a block of extra firm tofu in the fridge that I wanted to use up, and serve with some salad. The recipe was great, but I only had sherry wine, not sherry vinegar, so it wasn't as flavorful as it should have been. But it was really good. I'm going to withhold a rating until I make it the right way. The frying method was great because it made a nice fluffy crust that stuck to the tofu beautifully. And it was actually really filling. The block of tofu that I had was smaller too – 14 oz. I think.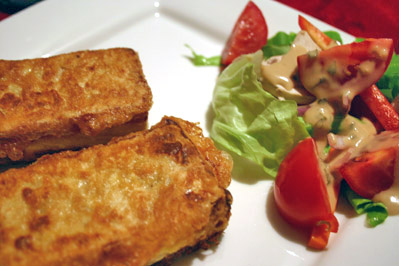 Fillet O'Fu
Good Eats – Alton Brown
Prep Time: 1 hour 20 minutes
Cook Time: 5 minutes
Yield: 2 servings
1 (19-ounce) block firm tofu
2 tablespoons sherry vinegar
2 tablespoons Worcestershire sauce
Few dashes of hot pepper sauce
Canola oil to cover skillet by 1/8-inch
2 eggs
1/2 cup all-purpose flour
Slice the block of tofu into 4 equal portions. Place the slices on paper towels and fold the towels over in both directions to cover the tofu. Place a baking sheet on top of the tofu and weigh it down with a 28-ounce can of tomatoes for 1 hour.
Combine the sherry vinegar, Worcestershire sauce, and hot pepper sauce and place the tofu into the marinade. Marinate for 15 minutes on each side.
Place the flour into a shallow dish and the eggs into another. Lightly beat the eggs.
Heat the canola oil in the skillet over medium-high heat.
Remove tofu from marinade and drain on paper towels to remove any excess marinade.
Lightly dredge the tofu in the flour, knocking off any excess flour and slide into the eggs until completely, but thinly, coated on both sides.
Slide tofu gently into the hot oil and fry for 2 minutes until golden brown and delicious. Flip the tofu using the tongs, and cook for another 2 minutes.