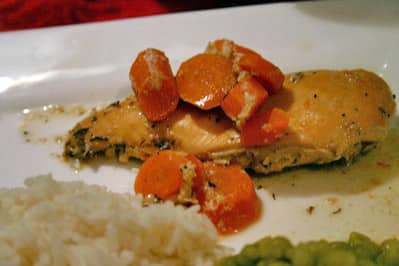 Chicken and Carrots With Wine Sauce
This post may contain affiliate links. Thank you for supporting the brands that keep me creative in my tiny kitchen!
Tonight's dinner stunk! I used 3 large boneless skinless chicken breasts instead of 8 thighs, and it turned out terribly. It was dry (which usually doesn't happen to me in the slow cooker, but I attribute it to only having 1/2 cup of liquid) and the taste wasn't good at all. We both took one bite and tossed it.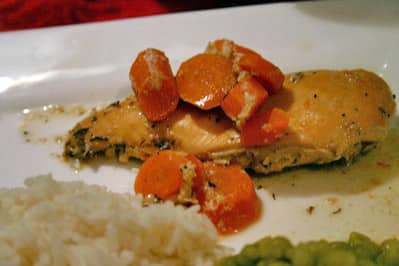 Chicken and Carrots With Wine Sauce
Cooking Light September 2002
Hours of cooking mellow the garlic. Serve French bread to sop up the sauce.
2 cups diagonally sliced carrot (about 8 ounces)
8 chicken thighs (about 2 pounds), skinned
12 garlic cloves, peeled
1/2 cup dry white wine
1 teaspoon dried thyme
1/2 teaspoon salt
1/4 teaspoon black pepper
1. Combine carrot, chicken, and garlic in an electric slow cooker, and add wine. Sprinkle with thyme, salt, and black pepper. Cover with lid; cook on low-heat setting for 8 hours.
2. Remove carrot, chicken, and garlic with a slotted spoon, reserving cooking liquid. Place 1/3 cup carrot, 3 garlic cloves, and 2 chicken thighs in each of 4 shallow bowls. Spoon 2 tablespoons of reserved cooking liquid over each serving.
Yield: 4 servings
Nutritional information per serving:
CALORIES 243 (25% from fat); FAT 6.8g (sat 1.7g, mono 2.1g, poly 1.7g); PROTEIN 34.6g; CARB 9.4g; FIBER 2g; CHOL 141mg; IRON 2.8mg; SODIUM 463mg; CALC 58mg
MacGourmet Rating: 1 Star