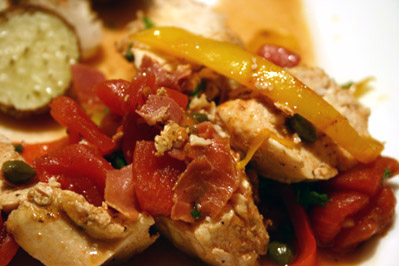 Roman Chicken | Potatoes and Onions
This post may contain affiliate links. Thank you for supporting the brands that keep me creative in my tiny kitchen!
Dinner tonight was really good! I saw an episode of Everyday Italian last weekend, and thought that two of the recipes looked really great!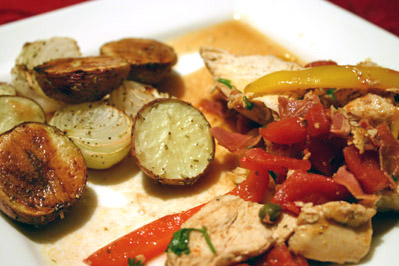 The main dish was very comforting. I made a few changes – I used boneless skinless chicken breasts, dried thyme & oregano, and curly parsley. I keep a bag of frozen BSCB in the freezer all the time, because I like having it handy whenever I want to make a chicken dish. Plus, I'm not much of a dark meat girl, so these work just fine. I also cut it in half since there's just two of us.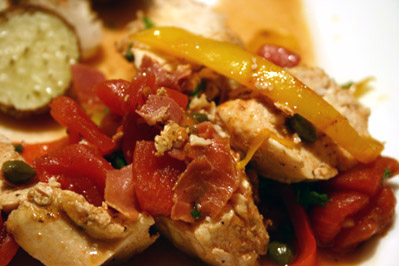 Roman Chicken
Everyday Italian
4 skinless chicken breast halves, with ribs
2 skinless chicken thighs, with bones
1/2 teaspoon salt, plus 1 teaspoon
1/2 teaspoon freshly ground black pepper, plus 1 teaspoon
1/4 cup olive oil
1 red bell pepper, sliced
1 yellow bell pepper, sliced
3 ounces prosciutto, chopped
2 cloves garlic, chopped
1 (15-ounce) can diced tomatoes
1/2 cup white wine
1 tablespoon fresh thyme leaves
1 teaspoon fresh oregano leaves
1/2 cup chicken stock
2 tablespoons capers
1/4 cup chopped fresh flat-leaf parsley leaves
Season the chicken with 1/2 teaspoon salt and 1/2 teaspoon pepper. In a heavy, large skillet, heat the olive oil over medium heat. When the oil is hot, cook the chicken until browned on both sides. Remove from the pan and set aside.
Keeping the same pan over medium heat, add the peppers and prosciutto and cook until the peppers have browned and the prosciutto is crisp, about 5 minutes. Add the garlic and cook for 1 minute. Add the tomatoes, wine, and herbs. Using a wooden spoon, scrape the browned bits off the bottom of the pan. Return the chicken to the pan, add the stock, and bring the mixture to a boil. Reduce the heat and simmer, covered, until the chicken is cooked through, about 20 to 30 minutes.
If serving immediately, add the capers and the parsley. Stir to combine and serve. If making ahead of time, transfer the chicken and sauce to a storage container, cool, and refrigerate. The next day, reheat the chicken to a simmer over medium heat. Stir in the capers and the parsley and serve.
MacGourmet Rating: 5 Stars
The side dish was really simple and good. This could also be easily adapted with different herbs and veggies. The potatoes were really tender, and both the onions and potatoes got really nice and carmelized.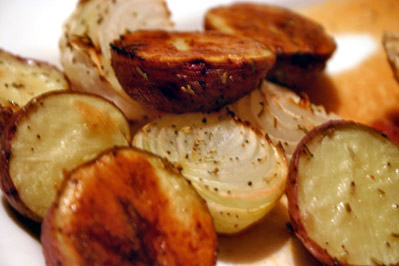 Potatoes and Onions
Everyday Italian
Difficulty: Easy
Prep Time: 30 minutes
Cook Time: 40 minutes
Yield: 4 to 6 servings
2 pounds new potatoes (white, red, or Yukon gold), scrubbed and halved
1 pound cippolini onions, peeled
1/4 cup extra-virgin olive oil
2 teaspoons dried rosemary
1 teaspoon salt
1 teaspoon freshly ground black pepper
Preheat the oven to 400 degrees F.
In a large bowl, toss together all of the ingredients. Spread the mixture in a single layer on a baking sheet. Bake until the potatoes and onions are golden brown and cooked through, about 40 minutes. Serve immediately or cool and store in an air-tight container in the refrigerator, reheating the next day in a preheated 400 degrees F oven for 10 to 15 minutes.
MacGourmet Rating: 5 Stars