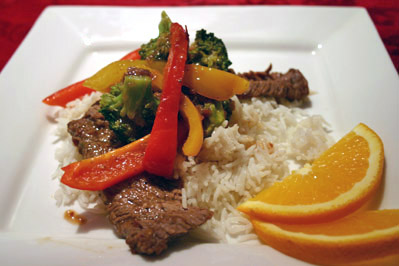 Dinner tonight was really good! It took a little bit of prep work (chopping all the veggies), but it cooked up really quickly, and I had some rice leftover from earlier in the week, so that part was taken care of! The fresh orange juice in the sauce is a really great flavor. I'll definitely make this one again.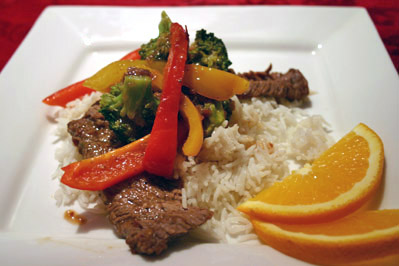 Orange Beef Stir-Fry
Everyday Food September 2006
Serves 4
Prep time: 35 minutes; Total time: 35 minutes
You may have tasted a version of this Asian-style dish at a local restaurant; now you can make it at home.
1 cup long-grain white rice
1/4 cup freshly squeezed orange juice (from 1 orange)
1 tablespoon rice vinegar
1 tablespoon soy sauce
1 tablespoon light-brown sugar
1 pound top or bottom round steak, cut into strips, 2 inches long and 1/4 inch thick
1 tablespoon cornstarch
Coarse salt and ground pepper
1 bunch (1 pound) broccoli, florets broken into small pieces (reserve stalks for another use)
2 tablespoons vegetable oil
1 red bell pepper (ribs and seeds removed), cut into strips, 2 inches long and 1/4 inch wide
1. Cook rice according to package instructions; set aside. Meanwhile, in a small bowl or liquid-measuring cup, combine orange juice, vinegar, soy sauce, and sugar; set aside. In a medium bowl, toss beef with cornstarch; season with salt and pepper. Set aside.
2. In a large skillet, combine broccoli with 1 cup water; season with salt and pepper. Bring to a boil over medium-high; cook, partially covered, until broccoli is bright green and crisp-tender, 4 to 6 minutes. Transfer to a plate. Discard any water in skillet; wipe with paper towel.
3. In same skillet, heat 1 tablespoon oil over high. When pan is very hot, add half the beef; cook until browned, 2 to 4 minutes. Using slotted spoon, transfer beef to plate with broccoli. Repeat with remaining oil and remaining beef, but leave beef in skillet.
4. Return reserved beef and broccoli to skillet; add orange-juice mixture and bell pepper. Continue cooking over high heat until sauce thickens, 2 to 4 minutes. Serve over rice.
Nutritional information per serving:
Per serving: 495 calories; 16.8 grams fat; 32.3 grams protein; 54 grams carbohydrates; 4.2 grams fiber
MacGourmet Rating: 4 Stars