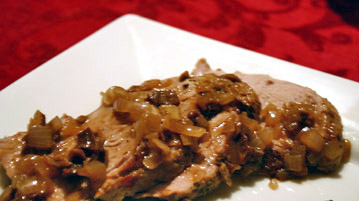 Rosemary Seared Pork Tenderloin with Truffle Porcini Sauce
This post may contain affiliate links. Thank you for supporting the brands that keep me creative in my tiny kitchen!
Last night I decided to make a recipe that would finally use some of the dried porcini mushrooms that I had bought a few months back. It also called for white truffle oil, which I've only used to drizzle over things, but never used in a recipe. I cut the recipe in half, and I had a pork tenderloin that was in the freezer that didn't thaw completely overnight, so I just cooked it a little longer. The results were pretty good! It definitely needs a little sprinkle of salt at the end to make the flavors really pop. I served it with a tri-colored couscous and some asparagus that I sauteéd with shallots.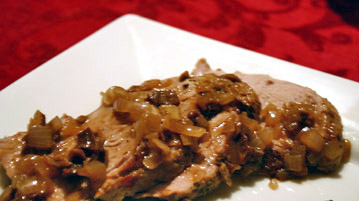 Rosemary Seared Pork Tenderloin with Truffle Porcini Sauce
Whole Foods Marketplace
What better testament to your devotion than this magnificent pork tenderloin, sliced into medallions and served with a savory sauce featuring porcini mushrooms and white truffle oil. Creamy risotto and braised bitter greens would be perfect complements to this culinary delight.
Serves 6
18 pieces dried porcini mushrooms
11/2 cups hot water
1 TB salted butter
3 lb pork tenderloin
3 TB dried rosemary
salt, to taste
pepper, to taste
canola oil spray
4 tsp white truffle oil, divided
1 tsp flour
2 TB olive oil
6 TB shallots, small diced
Preheat oven to 375°F.
Pour the warm water over the porcini mushrooms to rehydrate. Let soak while you prepare the tenderloin. Place the butter in a small bowl and allow to soften.
Season the tenderloin with dried rosemary and salt and pepper to taste. Lightly spray the tenderloin with a canola oil spray. Preheat an ovenproof sauté pan until you start to see wisps of smoke rising from the pan. Sear the tenderloin on both sides. Place the pan in the oven for approximately 10 to 15 minutes to finish cooking the tenderloin.
Remove porcini from the water (reserve the water) and dice into small pieces. Add the flour and 1 teaspoon of the truffle oil to the softened butter and set aside.
When tenderloin is finished, remove from pan and place on a plate to rest.
In the same sauté pan over a medium to low flame, add the olive oil and 2 teaspoons of the truffle oil. Sauté the shallots for 2 to 3 minutes, until translucent. Add the porcini mushrooms and sauté an additional minute. Deglaze the pan by pouring in the reserved mushroom liquid. Bring to boil and then add the butter mixture to the pan. Whisk until the butter is well incorporated and the sauce begins to thicken. Pour any juices from the resting tenderloin into the pan along with the last teaspoon of truffle oil. Stir to combine.
Slice the tenderloin into medallions and spoon the sauce over top. Serve immediately.
Nutrition Info:
Per Serving (274g-wt.): 460 calories (170 from fat), 19g total fat, 4.5g saturated fat, 55g protein, 15g total carbohydrate (5g dietary fiber, 1g sugar), 150mg cholesterol, 330mg sodium
MacGourmet Rating: 4 Stars