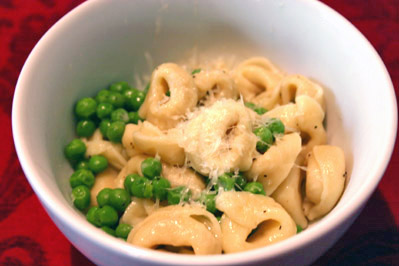 I made this recipe for lunch on Monday. When I saw it in the magazine, I laughed because it didn't look like it should be called a "recipe" to me. But it was a quick and easy meal to throw together, and let's face it, I love frozen peas.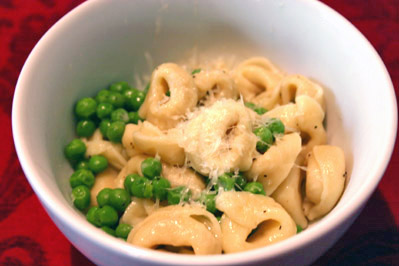 Tortellini with Peas
Everyday Food September 2006
Serves 4; Prep time: 10 minutes; Total time: 10 minutes
Coarse salt and ground pepper
1 1/2 pounds frozen cheese tortellini
1 package (10 ounces) frozen peas
2 tablespoons butter
1 garlic clove, smashed
1/2 cup shredded Parmesan cheese, plus more for serving (optional)
1. In a large pot of boiling salted water, cook tortellini about 2 minutes less than package instructions. Add peas; cook until pasta is al dente and peas are tender, 2 minutes more. Reserving 1 cup pasta water, drain. Set aside pasta and peas.
2. Melt butter in pasta pot over medium-low heat. Add garlic; cook until fragrant, about 1 minute. Discard garlic.
3. To pasta pot, add pasta and peas, Parmesan, and 3/4 cup reserved pasta water; season with salt and pepper. Toss to coat. Add more pasta water, if necessary, to thin sauce. Serve, topped with additional Parmesan if desired.
MacGourmet Rating: 4 Stars