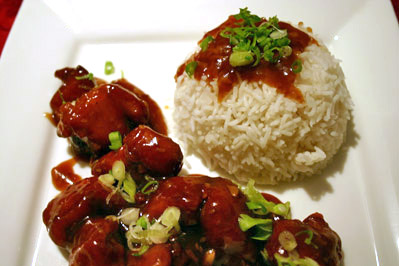 This post may contain affiliate links. Thank you for supporting the brands that keep me creative in my tiny kitchen!
Dino loves sesame chicken, so I decided to give it a try at home. It turned out really well, but it was pretty labor intensive to fry all of the pieces of chicken a few at a time and drain them. I think I'd like to do the same recipe, but with baking or pan-frying to cut back on the oil next time.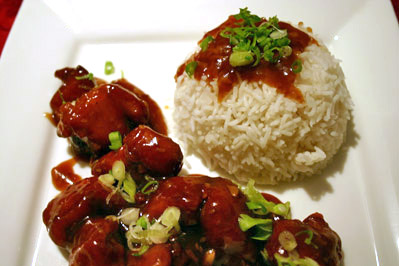 Awesome Sesame Chicken
recipezaar.com
3-4 Servings
30 minutes prep, 50 minutes total
3 whole boneless chicken breasts
Marinade
2 tablespoons light soy sauce
1 tablespoon cooking wine or dry sherry
3-5 drops sesame oil
2 tablespoons flour
2 tablespoons cornstarch
2 tablespoons water
1/4 teaspoon baking powder
1/4 teaspoon baking soda
1 1/2 teaspoons brown sugar
1 teaspoon vegetable oil
Sauce
1 cup water
3 tablespoons hoisin sauce
2 tablespoons brown sugar
4 teaspoons dark soy sauce
2 teaspoons vegetable oil
2 cloves garlic, minced
2 tablespoons cornstarch
1 green onion, thinly slice
2 tablespoons toasted sesame seeds
3 1/2-4 cups peanut oil (for frying)
1. Cut the chicken into small, approximately 1-inch cubes.
2. Add the marinade ingredients and marinate the chicken for atleast 20 minutes.
3. While the chicken is marinating, prepare the sauce.
4. Mix together all of the sauce ingredients except for the green onion.
5. Pour them into a small pot and bring to a boil.
6. Turn the heat down to a low and keep warm while you are deep-frying the chicken.
7. Heat oil for deep-frying.
8. When the oil is ready, add the marinated chicken a few pieces at a time, sliding them into oil carefully, and not to overcrowd.
9. Deepfry until golden brown.
10. Remove the cooked chicken pieces from the oil and drain on paper towels.
11. Repeat with the remainder of the chicken.
12. Just before you are finished deep-frying, bring the sauce back up to a boil.
13. Mix in the green onion.
14. Place the chicken on a large platter and pour sauce over.
15. Sprinkle with the sesame seeds.
16. Serve over rice.
Nutritional Information (Per Serving):
Calories 477 Calories from Fat 188 (39%) Total Fat 21.0g 32% Saturated Fat 4.0g 19% Polyunsat. Fat 7.9g Monounsat. Fat 7.5g Trans Fat 0.0g Cholesterol 82mg 27% Sodium 1592mg 66% Potassium 420mg 12% Total Carbohydrate 36.8g 12% Dietary Fiber 2.3g 9% Sugars 15.9g Protein 34.2g 68% Vitamin A 142mcg 2% Vitamin B6 0.7mg 35% Vitamin B12 0.3mcg 5% Vitamin C 1mg 2% Vitamin E 1mcg 4% Calcium 164mg 16% Magnesium 79mg 19% Iron 3mg 20% Alcohol 0.5g Caffeine 0.0mg
MacGourmet Rating: 4 Stars