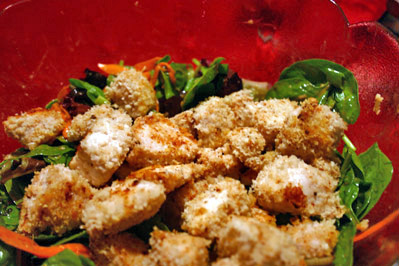 Mixed Salad with Hoisin Vinaigrette and Crisp Panko Chicken
This post may contain affiliate links. Thank you for supporting the brands that keep me creative in my tiny kitchen!
Dinner Saturday night was OK at best. I really haven't had any luck with salads lately. I followed the recipe, except cut the ginger in half. It was pretty potent with that amount, so I'm glad that I cut it. It wasn't necessarily bad, but it wasn't great. Dino liked it a lot more than me. We're thinking that the greens I bought might have been a little funky. There was something very "earthy" tasting, and that was the only place that we figured it could have come for.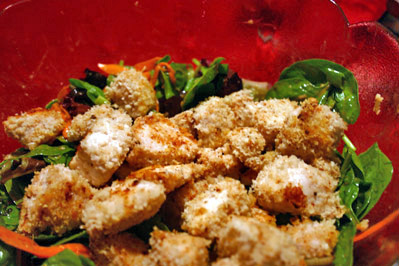 Mixed Salad with Hoisin Vinaigrette and Crisp Panko Chicken
Adapted from Cooking Light
Serves 4
1/2 cup panko bread crumbs
1/2 teaspoon salt
1/4 teaspoon chili powder
1/4 teaspoon freshly ground black pepper
16 ounces boneless/skinless chicken breasts, cut into 1-2″ chunks
2 tablespoons white wine vinegar
1 tablespoon finely chopped fresh ginger
1 tablespoon Dijon mustard
1 1/2 tablespoons hoisin sauce
2 teaspoons canola oil
1 1/2 teaspoons soy sauce
1 teaspoon toasted sesame oil
1 large garlic clove, minced
1/2 cup chopped green onions
4 ounces shaved carrots
8 ounces gourmet salad greens
Preheat oven to 375
In a medium bowl, mix together panko, salt, chili powder and pepper. Add chicken and toss to coat. Place chicken in a single layer on a baking sheet coated with cooking spray. Bake for 15 minutes or until chicken is done. Flip them over at about7-8 minutes in.
Puree vinegar, ginger, mustard, hoisin, canola oil, soy sauce, sesame oil and garlic in a food processor until smooth.
In a large bowl, mix together carrots, green onions, and salad greens. Add vinegar mixture and toss well to coat. Divide salad between plates and top evenly with chicken.
MacGourmet Rating: 3 Stars