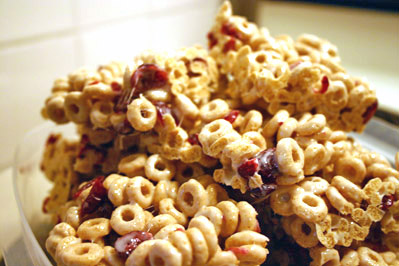 Cranberry-Oat Cereal Bars | Molasses Sandwich Cookies
This post may contain affiliate links. Thank you for supporting the brands that keep me creative in my tiny kitchen!
I made two desserts for a BBQ over Labor Day weekend. They both turned out deliciously! The first was really simple, and a great change of pace from a standard Rice Krispie Treat. It got RAVE reviews from my friends. I can tell that this will be my default "quick and easy" recipe to bring to future impromptu gatherings. The only difficulty I had was that it didn't quite fill my sheet pan, so I just stopped spreading them about 3/4 of the way over the pan. They held together beautifully, but I recommend putting some wax paper between them if you're going to store them in a tupperware, or they'll turn into one big gooey bar of goodness.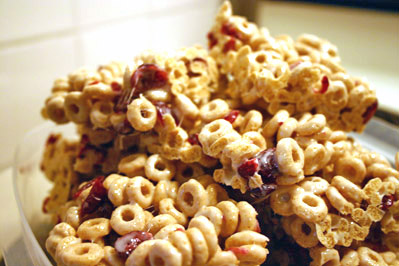 Cranberry-Oat Cereal Bars
Everyday Food September 2006
Makes 24
Prep Time: 15 minutes
Total Time: 1 hour 15 minutes
nonstick cooking spray
4 tablespoons unsalted butter
1 bag (10 ounces) marshmallows
1/2 teaspoon salt
6 cups toasted oat cereal
1 cup dried cranberries or raisins
1. Spray a 10-by-15-inch rimmed baking sheet with cooking spray. Line with waxed paper; spray paper with cooking spray, and set aside.
2. In a large saucepan, melt butter over medium heat. Add marshmallows and salt; cook, stirring occasionally, until marshmallows have melted, about 5 minutes. Remove from heat, and stir in cereal and dried cranberries.
3. Immediately transfer mixture to prepared baking sheet. Using a spatula (or your fingers) coated with cooking spray, press in quickly and firmly. Let cool, about 1 hour; cut into 24 bars (3 rows lengthwise by 8 rows crosswise). Store in an airtight container up to 2 days.
Per bar: 97 calories; 2.4 grams fat; 1.1 rams protein; 19.3 grams carbohydrates; 1.2 grams fiber
MacGourmet Rating: 5 Stars
The second recipe was totally different than anything I've ever had before. It was definitely something that I knew nobody else would bring. This is the type of cookie that you can eat a few of and stop, because they're rich and satisfying. I got about 36 cookies total, and I wish I would have noticed the note about dipping the spoon in water first so that the dough doesn't stick, because I would have had rounder cookies that way. But hey, nobody seemed to mind!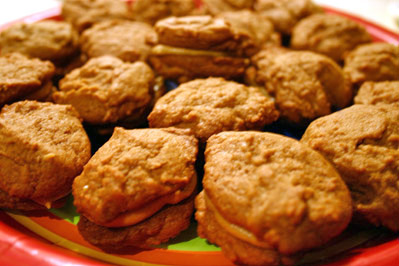 Molasses Sandwich Cookies
Everyday Food September 2006
Makes 30
Prep Time: 50 minutes
Total Time: 1 hour 30 minutes
1 1/2 cups all-purpose flour (spooned and leveled)
1/2 teaspoon baking soda
1 teaspoon ground cinnamon
1/2 teaspoon salt
1 cup packed light-brown sugar
1/2 cup (1 stick) unsalted butter, room temperature
1 large egg
1/4 cup light unsulfured molasses
Creamy Molasses Filling
1. Preheat oven to 350°. In a small bowl, whisk together flour, baking soda, cinnamon, and salt; set aside.
2. In a large bowl, with an electric mixer, beat sugar and butter until combined. Beat in egg, then molasses, until smooth. On low speed, gradually add flour mixture until a dough forms.
3. Drop rounded measuring teaspoonfuls of dough onto two ungreased (or parchment-lined) baking sheets.
4. Bake until centers are dry to the touch, 12 to 15 minutes; rotate pans from top to bottom and front to back halfway through. Cool 1 minute on baking sheets; then transfer to a rack to cool completely.
5. Spread a rounded measuring teaspoonful of Creamy Molasses Filling on the flat side of a cookie; place another cookie on top, and gently press. Repeat until all cookies are filled. Store in an airtight container at room temperature up to l day, or refrigerate up to 3 days (cookies may soften during refrigeration).
Forming Cookies: Use a round, not oval, measuring teaspoon for scooping dough. Before scooping, dip spoon in water to make sure dough doesn't stick.
Creamy Molasses Filling: Whisk 12 tablespoons (1 1/2 sticks) softened unsalted butter with 3 tablespoons light unsulfured molasses until smooth. Gradually whisk in 2 cups confectioners' sugar; whisk until smooth and spreadable. Makes 1 1/2 cups.
MacGourmet Rating: 5 Stars