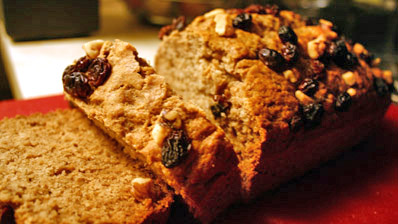 This post may contain affiliate links. Thank you for supporting the brands that keep me creative in my tiny kitchen!
Tonight, I tried this recipe out for the second time. The first time, I went to add the appleasuce, but it had cobwebs in it. It was from an orchard upstate, and everything we got there went bad the next day. So I waited a week or so, and had a go with a NEW jar of applesauce.
It turned out REALLY well, except that I forgot the raisins and nuts. I misread because I was distracted while I was making it. So I threw some on top after it had been in the oven for about 20 minutes. The raisins got a little burnt, but they were easy to pick off. Ah well, it tasted great without them – not too sweet. The texture was perfect too! I'll definitely make this again, the right way.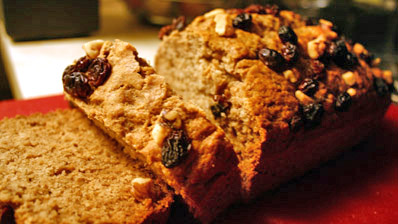 Applesauce Bread
Paula Deen
Prep Time: 10 minutes
Cook Time: 1 hour 5 minutes
Yield: 1 loaf
1/2 cup (1 stick) unsalted butter, softened
1/4 cup dark brown sugar
2 cups all-purpose flour
1 teaspoon baking powder
1 teaspoon baking soda
1/2 teaspoon salt
1 teaspoon ground cinnamon
1 teaspoon allspice
1 teaspoon vanilla
1 cup applesauce
2 large eggs
1 cup raisins
1/2 cup chopped walnuts
Preheat the oven to 350 degrees F. Grease and flour an 8 by 4 by 3-inch loaf pan.
Cream the butter and brown sugar. Add the remaining ingredients except the raisins and nuts. Mix well until blended. Stir in the raisins and nuts. Pour into the loaf pan. Bake for 60 to 65 minutes.
MacGourmet Rating: 4 Stars