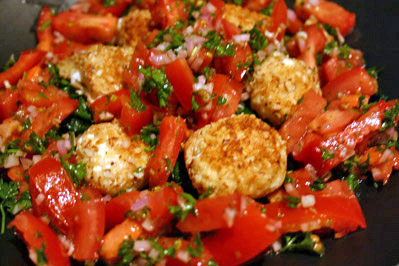 Crusted Goat Cheese with Spinach and Fresh Tomato Salsa
This post may contain affiliate links. Thank you for supporting the brands that keep me creative in my tiny kitchen!
Well, I thought that nothing bad could come of a recipe that called for goat cheese, but I was wrong. I'm not sure if it was the warm spinach that I didn't like, but this meal didn't do anything for me. I usually LOOOOVE goat cheese, and that part of it wasn't bad, but I think I'd prefer to have that part of the meal on top of a cold salad with a grilled chicken breast or something.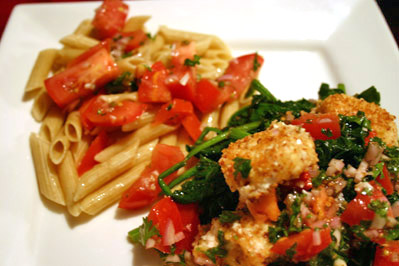 I served this meal with some leftover penne (Barilla Plus), with some of the tomato mixture from tonignt's recipe thrown on top. The only change that I made to the ingredients was to use dried oregano (I cut the amount in half), and the goat cheese was too crumbly, so i took the crumbled slices and rolled them into balls and flattened them slightly. I think I'll make the goat cheese discs again, but I'll let them cool completely before putting them on something.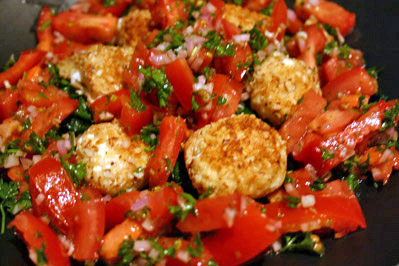 Crusted Goat Cheese with Spinach and Fresh Tomato Salsa
Cuisine At Home June 2006
1 ½ cups tomatoes, chopped
¼ cup shallots, minced
¼ cup fresh parsley, chopped
2 tablespoons olive oil
2 tablespoons red wine vinegar
2 teaspoons fresh oregano, minced
to taste salt and pepper
⅓ cup panko bread crumbs
⅓ cup almonds, slivered
8 ounces soft goat cheese
1 egg, beaten
1 tablespoon olive oil
8 cups fresh spinach
¼ teaspoon red pepper flakes
COMBINE first 6 ingredients in a small bowl. Season with salt and pepper, cover, and chill.
PULSE panko and almonds together in a food processor until fine.
SLICE cheese into eight 1⁄2 inch thick slices. Dip each slice into egg, then coat in almond mixture.
BROWN coated cheese in 1 T oil in a nonstick skillet over medium heat. Drain medallions on paper towels; return pan to the burner.
SAUTE spinach with pepper flakes and salt until wilted, about 1 min. Serve crusted cheese over sautéed spinach and top with tomato salsa.
MacGourmet Rating: 2 Stars