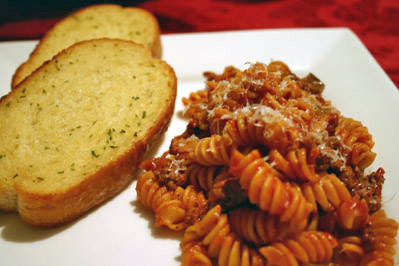 This post may contain affiliate links. Thank you for supporting the brands that keep me creative in my tiny kitchen!
Tonight I made a recipe that's a staple around my house. It's been adapted from a recipe my mom gave me, and actual amounts have been put in too! They're all approximate though, it's a pretty forgiving recipe. Just make sure there's enough juice to cover and cook the noodles. It's pretty quick and low maintenance too, which is great during the week. You only need one large pan to make it in too – just make sure you pick one that's deep enough to hold the liquid. I served it with some Texas toast (I always keep a box in the freezer and pop it in the toaster oven for a quick side). It was a very filling meal!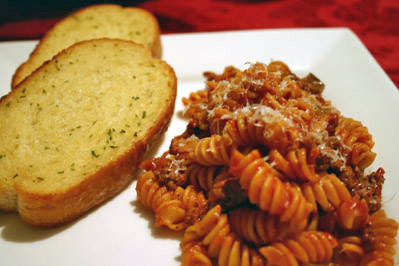 Tomato Beef Pasta
Adapted from Mom's Recipe
Serves 4-5
1 pound ground beef, (I use ground sirloin)
1 pound pasta, (I use rotini, mom uses elbow macaroni)
1 large bottle (46 ounces) tomato juice
3 tablespoons ketchup
2 teaspoons brown sugar
2 teaspoons chili powder
1 onion, chopped
1 green bell pepper, chopped
to taste salt and pepper
parmesan cheese, grated (optional)
Brown meat and drain fat. Add onion and pepper and sauté for a few minutes, until veggies get tender. Sprinkle on chili powder, brown sugar, salt and pepper. Add ketchup and tomato juice and stir. Pour in pasta and stir to coat.
Simmer, covered, until al dente (about 20 minutes), stirring occasionally to make sure that the juice is cooking the noodles evenly.
Serve, topped with freshly grated Parmesan cheese if desired.
MacGourmet Rating: 5 Stars