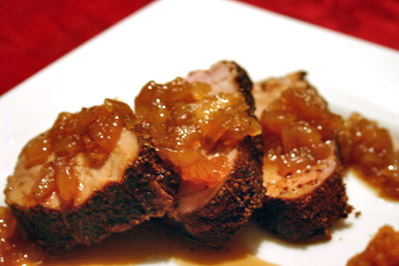 Spicy Pork Tenderloin with Ginger-Maple Sauce
This post may contain affiliate links. Thank you for supporting the brands that keep me creative in my tiny kitchen!
Tonight's dinner was a 5 star event!! I served a Cooking Light recipe with a recipe for yams that I got from my mom. It was a very autumnal meal, but don't let that make you think that I want summer to end!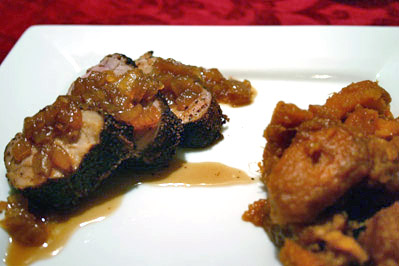 The pork tenderloin was very moist! The only change that I made was to only use 1 tablespoon of ginger, because I've run into problems using the full amount of the jarred ginger before. I really love ginger, but I've decided that when I have to use the jarred kind, I'm always going to cut it in half. The sauce was perfect, so I'm glad I didn't use the full amount. I had to cook it for 35 minutes to get it to the right temperature also.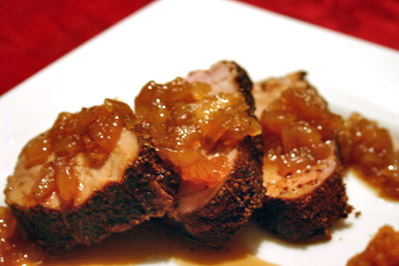 Spicy Pork Tenderloin with Ginger-Maple Sauce
Cooking Light Annual 2002
"Maple syrup and the blend of spices give the sweetness of this dish a kick."
Prep: 45 Minutes
Cook: 30 Minutes
2 teaspoons chili powder
1 ¼ teaspoons salt
1 teaspoon black pepper
1 teaspoon ground cinnamon
1 ½ pounds pork tenderloin, trimmed
cooking spray
2 tablespoons butter
1 cup onion, chopped
2 tablespoons bottled ground fresh ginger
1 cup fat-free, less-sodium chicken broth
½ cup maple syrup
Preheat oven to 375°.
Combine first 4 ingredients in a small bowl; rub pork with spice mixture. Refrigerate 30 minutes.
Heat a large nonstick skillet coated with cooking spray over medium-high heat; add pork. Cook 6 minutes; brown on all sides. Place on a broiler pan coated with cooking spray. Bake at 375° for 30 minutes or until thermometer registers 155°. Let stand 10 minutes before slicing.
While pork bakes, melt the butter in a medium saucepan over medium-high heat. Add the onion, and cook 10 minutes or until golden brown, stirring frequently. Add ginger, and cook 4 minutes. Stir in broth and syrup, scraping pan to loosen browned bits. Bring broth mixture to a boil; cook until reduced to 3/4 cup (about 10 minutes). Cut pork into 1/4-inch-thick slices; serve with sauce.
Yield: 6 servings (serving size: 3 ounces pork and 2 tablespoons sauce).
Nutritional information per serving:
263 calories; 21.7 g carbohydrates; 78 mg cholesterol; 8.2 g fat; 663 mg sodium; 25 g protein; 39 mg calcium; 2 mg iron; 1.1 g fiber
MacGourmet Rating: 5 Stars
This recipe is SO SO SO good, but I don't have exact measurements. You just kinda go with the flow. The longer you cook them, the more flavorful they get. I probably had them on the stove for about 30 minutes today. This is a staple at Thanksgiving for me, and it really complimented the pork well.
Yams
Mom
lg. can Yams
1/2 stick butter
brown sugar
nutmeg
Melt butter. Add brown sugar until thick. Sprinkle with nutmeg. Add yams (drain most of juice). Stir to coat & heat through.
MacGourmet Rating: 5 Stars