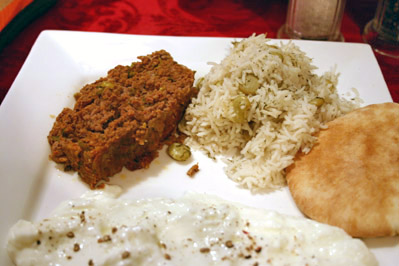 This post may contain affiliate links. Thank you for supporting the brands that keep me creative in my tiny kitchen!
Last night, I made one of our favorite recipes again. It's the only meatloaf that I've ever enjoyed. It's really flavorful, and very moist. I didn't have a loaf pan the first few times I made this recipe, so I used a 9×9″ pan instead, and I think it turns out better that way. I used a loaf pan last night, and it was messier and took a lot longer to bake. Even in a 9×9″ pan, it takes more than an hour in my oven to cook, and last night in the loaf pan, it took about an hour and 20 minutes. Also, the recipe says that it makes 4 servings, but I think that's absolutely crazy! I'd say it's more like 6-8. The leftovers go quickly though!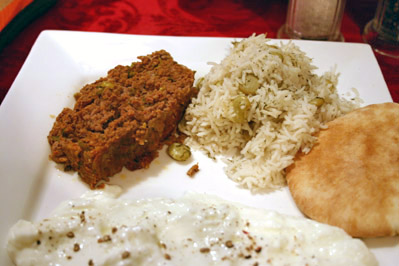 Last night, I served it with some lima bean rice (basmati with lima beans and dill), pita bread, and plain yogurt. I'll also post a picture of the last time I made it so that you can see what it looks like in the other pan. This recipe could convert anyone to a meatloaf fan!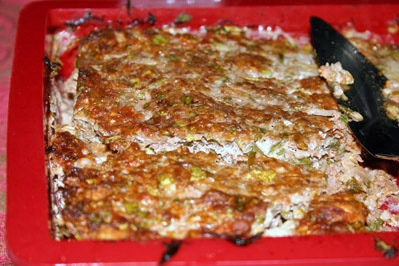 Persian Meatloaf
In a Persian Kitchen: Favorite Recipes from the Near East
Serves 4
1 ½ pound ground lamb or beef
1 large onion, grated
¼ cup green onion, finely chopped
¼ cup parsley, chopped
¼ cup celery leaves, finely chopped
1 teaspoon salt
¼ teaspoon cinnamon
½ teaspoon black pepper
2 eggs
¼ cup tomato paste
1 tablespoon lemon juice
1 slice white bread
Put meat in large bowl. Add above ingredients except bread. Soak the bread in water and squeeze the water and add it to meat. Mix well until thoroughly mixed. Put in baking dish and bake for 1 hour at 350 degrees.
MacGourmet Rating: 5 Stars