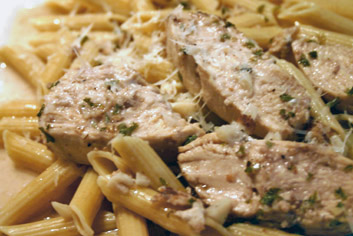 This post may contain affiliate links. Thank you for supporting the brands that keep me creative in my tiny kitchen!
Last night, I needed to make something quick and simple, so I went for this recipe from Cooking Light. I misread the directions and didn't slice the chicken before browning it, so it took a little longer to cook. I don't know why you're supposed to bread it and then poach it for 20 minutes – it made the breading kind of soggy. I used seasoned salt instead of salt-free seasoning AND salt (I thought that was kind of funny), and I used dried parsley. Whenever a recipe calls for Italian seasoned breadcrumbs, I use plain and add some Italian seasoning to it. It's easy enough, and that way you don't have two containers of breadcrumbs taking up room in your kitchen.
I also didn't have any linguine or spaghetti, so I used some Barilla Plus penne. The recipe makes a lot of broth that I think would be nice on a linguine, but it didn't really work with the penne. Overall, it was kind of bland. It does have potential to be tweaked into something better though.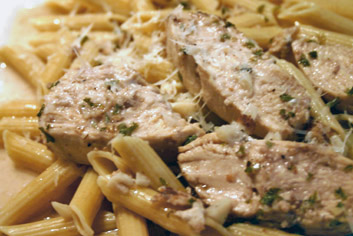 Chicken Scampi
Cooking Light August 2000
"My father loves the garlic flavor of scampi, so over the years I've
tried various recipes to find one that tastes as good as the one from his favorite Italian restaurant. After many attempts, this one seems to capture the flavor best, and without all the butter." –Kellie Mulleavy, Lambertville, Mich.
Serves 4
1 pound boneless skinless chicken breast, cut into 1-inch-wide strips
¼ cup egg substitute
⅓ cup Italian seasoned breadcrumbs
cooking spray
2 tablespoons butter or stick margarine
3 cloves garlic, minced
1 cup fat-free, less-sodium chicken broth
⅔ cup dry white wine
1 ½ tablespoons fresh parsley, chopped, or 1 1/2 teaspoons dried
1 ½ teaspoons salt-free seasoning, (such as Mrs. Dash)
¼ teaspoon dried oregano
⅛ teaspoon salt
3 cups hot cooked linguine, (about 6 ounces uncooked pasta)
¼ cup (1 ounce) Parmesan cheese, freshly grated
1. Dip chicken in egg substitute; dredge in breadcrumbs.
2. Place a large nonstick skillet coated with cooking spray over medium-high heat until hot. Add chicken, and saute for 6 minutes or until browned. Remove chicken from pan.
3. Melt butter in pan over medium-high heat. Add garlic, and saute 1 minute. Add broth and the next 5 ingredients (broth through salt), and bring to a boil. Add the chicken; reduce heat, and simmer for 20 minutes. Place 3/4 cup pasta on each of 4 plates; top each serving with 3/4 cup chicken mixture, and sprinkle with 1 tablespoon cheese.
Nutritional information:
CALORIES 419 (22% from fat); FAT 10.2g (sat 5.3g, mono 2.8g, poly 1g); PROTEIN 37.6g; CARB 41.9g; FIBER 1.2g; CHOL 86mg; IRON 3.3mg; SODIUM 721mg; CALC 129mg
MacGourmet Rating: 3 Stars