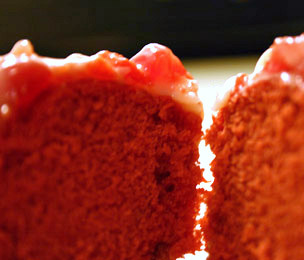 Red Velvet Cupcakes with Chunky Cherry Icing
This post may contain affiliate links. Thank you for supporting the brands that keep me creative in my tiny kitchen!
Thursday is Dino's birthday, and since he just got back from a business trip (first time ever!) in L.A., I decided to bake for him tonight while he was catching up on his sleep. He loves red velvet cake, and I've never made it (I'm actually not even sure that I've ever eaten it!), so I went for this great recipe for cupcakes. They came together pretty quickly, and they turned out GREAT! I cut the recipe in half and got 18. I used about 3/4 of a bottle of food coloring, to make sure they were a deep red. The icing is pretty sweet, so you don't need to put too much on them. I also found super fun candles at the grocery store.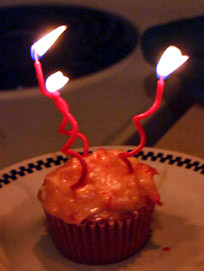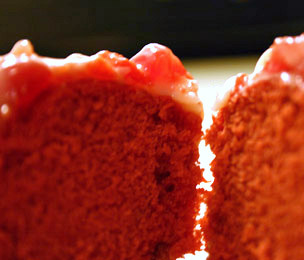 Red Velvet Cupcakes w/Chunky Cherry Icing
Southern Living
Serving Size : 36
1 cup vegetable shortening
1/2 cup butter
3 cups sugar
6 large eggs
2 teaspoons vanilla extract
1 ounce bottle of red food coloring
3 cups all-purpose flour
2 Tablespoons cocoa powder
1/4 teaspoon baking soda
1 teaspoon salt
1 cup milk
Chunky Cherry Icing:
8 ounces Neufchatel cheese
1/2 cup butter — softened
1 cup sweetened coconut flakes
4 cups powdered sugar — (4-5 cups)
1 cup maraschino cherries — chopped
Beat first 3 ingredients at medium speed until fluffy. Add eggs, one at a time, beating just until yellow disappears. Stir in vanilla extract and food coloring until blended.
Combine flour, cocoa, baking soda, and salt. Add to shortening mixture alternately with milk, beginning and ending with flour mixture, beating just until blended. Spoon batter into cupcake liners – filling 2/3 full.
Bake at 325 degrees for 30 minutes or until a wooden pick inserted in center comes out clean. Remove and cool on a wire rack.
For icing – beat cream cheese and butter, add sugar until desired
consistency. Stir in extras.
MacGourmet Rating: 4 Stars