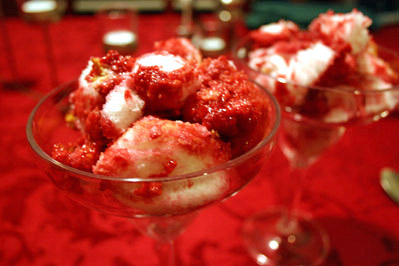 Steak Fajitas with Fresh Guacamole | Angel Food Cake Cubes with Blackberry Sauce
This post may contain affiliate links. Thank you for supporting the brands that keep me creative in my tiny kitchen!
Tuesday night, I made meal #2 from Robin Miller's What's At Steak plan. There was a little confusion, because the way the recipes were written, it sounded like I should have marinated it and cooked it with the previous night's dinner, but then RE-marinate it for the fajitas. That sounded weird to me, so I simply made the marinade for the fajitas and used it on the meat for the final 2 meals of the plan. I sliced all of the meat, and then kept half in the fridge for Wednesday's Philly Cheesesteaks. The fajitas came together very quickly (I had already done all of the chopping), so the only thing that needed to be done was the guacamole. The fajitas were REALLY tasty, and the guacamole was good too, but I prefer the way I make it to this method. It was interesting to use canned diced tomatoes instead of fresh.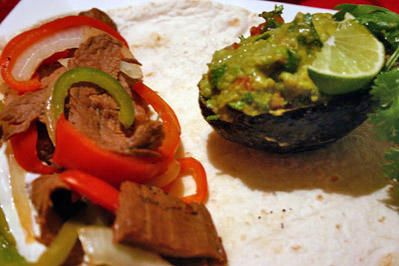 Steak Fajitas with Fresh Guacamole
Quick Fix Meals with Robin Miller
Difficulty: Easy
Prep Time: 15 minutes
Cook Time: 7 minutes
Yield: 4 servings
1/4 cup soy sauce
1/4 cup red wine vinegar
2 tablespoons light corn syrup
1/2 teaspoon hot sauce or more to taste
1/4 teaspoon ground black pepper, plus more for seasoning
12 ounces leftover flank steak slices
1 green bell pepper, seeded and cut into thin strips
1 red bell pepper, seeded and cut into thin strips
1 onion, halved and thinly sliced
8 tortillas
2 ripe Hass avocados, peeled and pitted
1/2 cup diced canned tomato
2 cloves garlic, minced
1 large or 2 small limes, juiced
2 tablespoons torn or chopped fresh cilantro leaves
Salt
In a shallow dish, whisk together soy sauce, vinegar, corn syrup, hot sauce, and pepper. Add steak, bell peppers and onion and toss to coat. Cook immediately or cover with plastic wrap and refrigerate up to 24 hours.
Set a large nonstick skillet or stove-top grill pan over medium heat. Spray with cooking spray and add steak and vegetables, with the marinade. Sauté 5 to 7 minutes, until vegetables are tender-crisp. Transfer mixture to a serving platter.
Meanwhile, warm tortillas in the microwave or according to package directions.
To make the guacamole, in a zip-top bag or medium bowl, mash avocado lightly. Then add tomato, garlic, lime juice and cilantro and combine. Season, to taste, with salt and black pepper. Serve fajitas with guacamole on the side.
MacGourmet Rating: 4 Stars
For dessert, I made the Angel food Cake Cubes with Blackberry Sauce. The only changes I made were to use frozen raspberries (my store didn't have blackberries), and I used a small angel food cake, because they didn't sell halves. This was VERY quick, VERY easy, light and satisfying. I had it warm on Monday night, and cold on Tuesday night. it was great either way! I'm looking forward to trying this with LOTS of different types of fruit.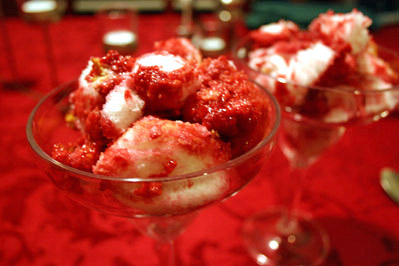 Angel Food Cake Cubes with Blackberry Sauce
Quick Fix Meals with Robin Miller
Difficulty: Easy
Prep Time: 5 minutes
Cook Time: 5 minutes
Yield: 4 servings
1 (10-ounce) bag frozen blackberries, thawed or frozen
1 teaspoon cornstarch
1/2 prepared angel food cake, cut into 1-inch cubes (enough to make 4 cups)
In a small saucepan, combine blackberries and cornstarch. Bring to a simmer over medium heat. Simmer until blackberries break down, 2 to 5 minutes.
Transfer blackberries to a large bowl, add angel food cake cubes and toss to coat cake with sauce. Serve warm or chilled.
MacGourmet Rating: 5 Stars