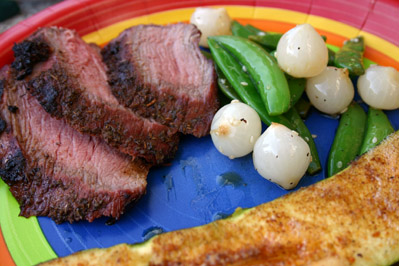 Jamaican Jerk Flank Steak | Sesame-Glazed Snap Peas with Pearl Onions | Zucchini Bread
This post may contain affiliate links. Thank you for supporting the brands that keep me creative in my tiny kitchen!
I've decided that this week I'm going to give Robin Miller's Quick Fix Meals a shot. She has a good idea – you prep for 3 different meals (with a couple sides and one dessert) on a weekend so that you can have things ready to cook more quickly for the week. On Food Network's website, she has "Game Plans" and shopping lists for the week – it breaks it down into what you need to do for each day for the meal.
So yesterday, I prepped stuff for two other meals, and made this one. It was great! We threw the meat on the grill and ate outside. It was a great combination of flavors! The meat was really juicy, and the marinade got a little charred on the outside, which made a really nice herbed crust. Her side dish was good too – I've never used pearl onions before. I couldn't find frozen, so I used a jar of them. The peas stayed nice and crisp. I had a zucchini that we threw on the grill too – I drizzled some olive oil on it and sprinkled some of Sylvia's Soulful Seasoned Salt on top, and put it on foil on the grill.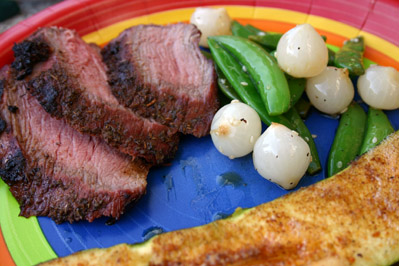 Jamaican Jerk Flank Steak
Quick Fix Meals with Robin Miller
Difficulty: Easy
Prep Time: 10 minutes
Inactive Prep Time: 10 minutes
Cook Time: 10 minutes
Yield: 4 servings
Cooking spray
1/2 cup red wine vinegar
1 tablespoon granulated sugar
2 teaspoons ground allspice
2 teaspoons ground cloves
2 teaspoons dried basil
2 teaspoons dried thyme
1 1/2 teaspoons hot sauce
2 1/2 pounds flank steak
Salt and pepper
Preheat grill, grill pan or broiler. Coat a grill, large baking sheet or shallow roasting pan with cooking spray.
In a shallow dish, whisk together vinegar, sugar, allspice, cloves, basil, thyme, hot sauce, salt, and pepper. Add flank steak and turn to coat (you may marinate up to 24 hours at this point).
Transfer flank steak to prepared pan and pour over any remaining marinade. Grill or broil 5 minutes per side, until medium-rare. Let stand 10 minutes before slicing crosswise into thin slices. Serve 12 ounces for tonight's dinner (about 1/3 of the total). Refrigerate leftovers until ready to use.
MacGourmet Rating: 5 Stars
Sesame-Glazed Snap Peas with Pearl Onions
Quick Fix Meals with Robin Miller
Difficulty: Easy
Prep Time: 5 minutes
Cook Time: 5 minutes
Yield: 4 servings
2 tablespoon sesame oil
2 cups snap peas (fresh or frozen)
1 tablespoon soy sauce
1 bag frozen pearl onions
1 tablespoon water
2 teaspoons sesame seeds
Salt and pepper
Heat oil in a large skillet over medium heat. Add snap peas, soy sauce, pearl onions and 1 tablespoon of water and cook 3 to 5 minutes, until vegetables are tender and golden and water evaporates. Stir in sesame seeds and cook 1 minute, until seeds are golden. Remove from heat and stir in salt and black pepper.
MacGourmet Rating: 4 Stars
This is the first recipe of Paula Deen's that I've made, and it was FABULOUS! I figured that it would be slightly healthier than her normal recipes, since it didn't call for 2 sticks of butter or bacon. 🙂 I cut this in half, and it turned out VERY moist, with a nice caramelized crust on top. I chose to use walnuts, and this was so good that it's already over half gone!!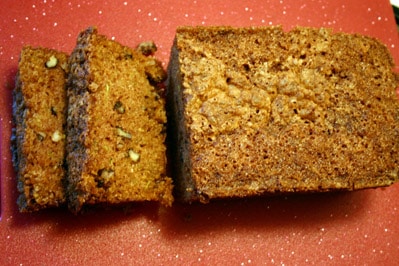 Zucchini Bread
Paula's Home Cooking
Difficulty: Easy
Prep Time: 10 minutes
Cook Time: 1 hour
Yield: 2 loaves
3 1/4 cups all-purpose flour
1 1/2 teaspoons salt
1 teaspoon ground nutmeg
2 teaspoons baking soda
1 teaspoon ground cinnamon
3 cups sugar
1 cup vegetable oil
4 eggs, beaten
1/3 cup water
2 cups grated zucchini
1 teaspoon lemon juice
1 cup chopped walnuts or pecans
Preheat oven to 350 degrees F. In a large bowl, combine flour, salt, nutmeg, baking soda, cinnamon and sugar. In a separate bowl, combine oil, eggs, water, zucchini and lemon juice. Mix wet ingredients into dry, add nuts and fold in. Bake in 2 standard loaf pans, sprayed with nonstick spray, for 1 hour, or until a tester comes out clean. Alternately, bake in 5 mini loaf pans for about 45 minutes.
MacGourmet Rating: 5 Stars